March 5, 2010, 2:47 pm
I was searching online for information about whether you could search your Facebook statuses (still haven't found out if you can) and came across a really interesting blog post by Rob Banagale called 5 Creative Ways to Hack Your Facebook Profile Photo. Now, I wouldn't really call these "hacking" because you're not doing anything wrong and to me, hacking implies malice. He's got some cool tips on that blog post and I decided to play around with a photo and came up with this:
You can click the image to see it a little bigger. Or, if you are on my friends list on Facebook, check it out for yourself on my profile.
Now, I'm not normally a whimsy/fantasy type of scrapper,  but I like how my profile pic turned out! When I read Rob's blogpost, I had that photo in mind. It's one from 2006 of Lauren on a swing and I thought it'd be perfect for this "hack." The chain link on the swing didn't extract very well so I had to use a graphic for it and then decided to add the cute critters all around. (Those critters are actually a NEW PRODUCT of mine. Yes, I said new product! I have not created something brand new for sale in a long time. They're not available just yet, but keep an eye on my iScrapbook store and they'll be there within a week.) Here is a preview of them: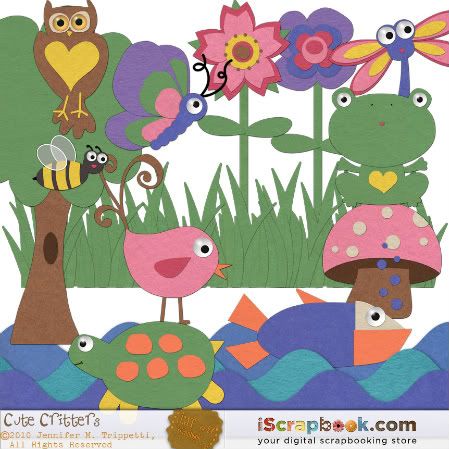 There are 16 items all made out of construction paper. How cute are they? Just to see if there is anyone reading my blog, if you want them for free, give me a little comment and they're yours. Limited time offer!
The End...For Now | File Under LO, jackpot, new products | 5 Comments |
---
February 4, 2010, 1:02 pm

Back in October I started a diet program called Take Shape for Life by Medifast. The weight started dropping off quickly but by Christmas (actually around Thanksgiving), I hit a plateau. At least that's what my doctor calls it. I call it getting bored & cheating. The diet is a really good one. It's doctor supervised and it's a 1000 calorie a day diet. It's low carb – not no carb, just low carb, and based on the ideas of the Zone diet, as far as I can tell. But, as my doctor says, you need a PhD to understand the Zone Diet and Medifast makes it simpler. The basic premise is that you eat 5 Medifast "meals" a day and then one "lean and green" meal a day. By eating every 2-3 hours you aren't hungry (seriously, I'm not hungry) and the Medifast meals are high protein (soy) meal replacement bars, shakes and even pretzels, cheese puffs, oatmeal, soups and puddings. The food is really good. It satisfies my crunch craving and even my sweet tooth. Some of my favorite items are the S'mores Crunch Bar and the Chili Nacho Cheese Puffs. They are small, don't get me wrong (only 90-110 calories per "meal") but they are good. For lunch often I'll have a soup, chili or stew meal and add some celery to it.  For the lean & green meals you get a really healthy portion of a protein (between 5 & 7 ounces, depending on the protein) and then 3 cups of veggies throughout the day or all at once. No fruits, no sugars, no extra carbs except for what's in the meals. I do miss the breads, but if I stick to the plan religiously, I don't miss them as much. It's like the more I eat, even if it's just a bite, the more I crave.
I've lost 23 pounds officially and am really feeling better. I have to get back to exercising, though, because I know that will help, too. But, it'll also throw off my calorie balance and at only 1000 calories a day, I have to be very aware of that. I don't think I'm going to get back into running anytime soon, but I do want to start a serious walking program. My Mom is joining the Y tomorrow, so I'll have incentive to go more often because I want her to get healthier, too. If I am brave enough, after I've lost about 30 or 40 pounds, I'll post before and after pictures. I know I've lost inches, but so far have not bought new clothes. I'm just fitting better into old clothes & pulling older shirts out of the closet that got too tight last year. By this summer I want to feel good wearing shorts and tank tops and hopefully be down at least one size in pants. My ultimate goal is to be 150 pounds, but for now, my short term goal is 170. I've still got a ways to go.
Now for some Disney Layouts. These were created with QuickPages. Everything is by Libby Weifenbach, Do You Believe in Magic at Sweet Shoppe Designs. (QuickPage with additional elements from the kit added.) Font is KGD DeeDee Print. I did a little bit of journaling on the left side of the page – it was a sort of stream of consciousness journaling. I just plopped down bits & pieces of our memories, good and bad, about Animal Kingdom. I'm happy with the way it turned out and may do that for each park.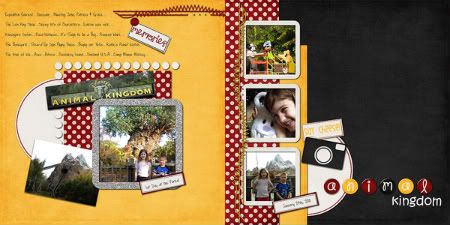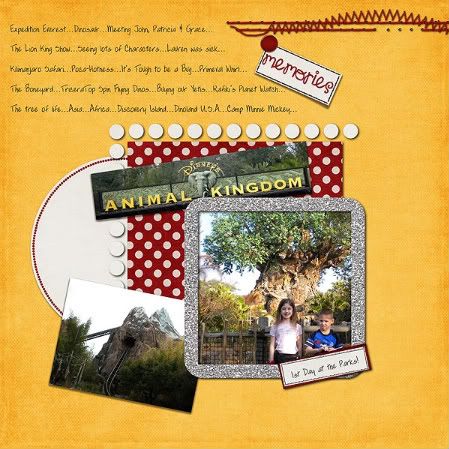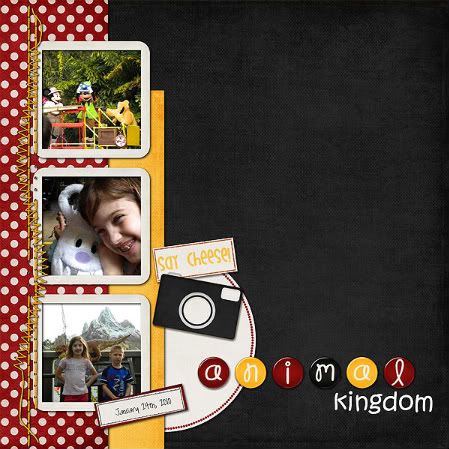 That's it for now. Until another time…
Adios!
The End...For Now | File Under LO, fitness, random babbling | Leave a Comment |
---
February 2, 2010, 7:53 pm
I have been having lots of fun scrapping my Disney layouts. But, how's this for luck. Of the 4 Disney kits I purchased a week and a half ago, 2 of them went on sale this week. Bah. Just my luck. Anyway, they're great kits and worth the full price I paid for them.
So this DPS features Mickey & Minnie mouse. We didn't see much of them on this trip. The kids did get to get both of their autographs as Animal Kingdom, but we didn't get to see them anywhere else for photos or autographs. We did see them in parades & shows, but not sitting for photos, which I thought was a bummer. I'm a tradionalist, LOL, and I'd have rather had a shot of Mickey in his "normal" attire instead of his Animal Kingdom outfit. I was by myself when I saw Minnie in her red polka-dotted dress, so no one else got in on that action.
Here is the whole DPS.  Most everything is by Melissa Bennett, Mouse Magic from Sweet Shoppe Designs. DisneyWorld word art and bracket shape by Britt-ish Designs, Remember the Magic word art by Miss Kim. Fonts used are Sharpie, Foo and KGD DeeDee Print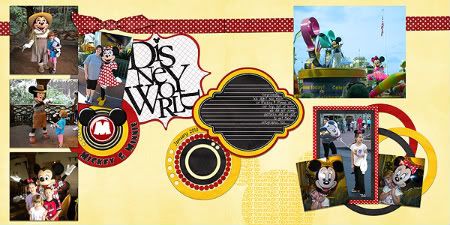 And individually: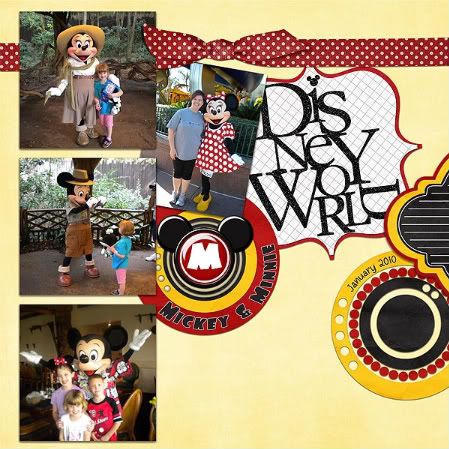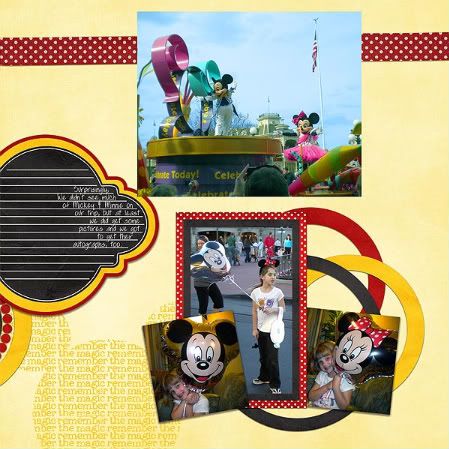 And then there is a single I did, using some of the photos I scrapped in the Pluto DPS before. I just love these photos & wanted a single, artsy LO for them. Most everything by Britt-ish Designs, Leave the World Behind from Scrap Matters with some extras from Do You Believe in Magic by Libby Weifenbach from Sweet Shoppe Design (journal strip, ribbon, star flair). The Font is something by KGD, but I forget which one.
I'm on a roll with these LOs. I really want to get a book done with the photos and still have 100+ photos coming on the Disney PhotoPass CD that should be delivered next week. Hopefully with those photos I can do some single photo LOs instead of these multi ones. Although I like doing multi-photo spreads – it's nice for a photo book, I think my favorite layouts are more artsy ones that just have a single picture.
Tomorrow I'll post the 2 QP layouts that I made. Even using QPs, though, I'm still a slow scrapper. A single DPS is about all I can do in a day. I like to play around so much with the elements that it takes me forever to get them all on a layout. I just hope I don't go into scrap burn out from scrapping a DPS each day!
The End...For Now | File Under LO, random babbling | Leave a Comment |
---
February 1, 2010, 9:13 am
…almost a year, actually. But I've been visiting my blog now & then and thinking of coming back to blog again, so here I am. I just returned from a family vacation to Walt Disney World and have some layouts to post. It was our first trip to Disney as a family and my parents went with us, too. John and I haven't been there since our honeymoon 13 years ago, so a lot had changed! The kids had fun, as did I. John did too, I guess, but he was sick for most of the trip. All of us, except for Allison had a touch of sickness at one time during the trip. But, we tried to push on, ignoring the sickness when we could, so that we could enjoy Disney. All in all, we had fun.

I think unanimously, we all thought that Soarin' at EPCOT was one of the best rides there. It was one of the only rides that all 7 of us went on together, we got to sit together and we all enjoyed it. Soarin' simulates a hang-glide ride over different places and it's augmented with scents like a crisp forest or sweet orange grove as you fly over them. It was so cool and normally I don't like simulated rides like that, but it was slow and easy enough that it didn't bother me.
We enjoyed seeing all the characters, too and Disney's PhotoPass is one of the best inventions ever! They have trained photographers throughout the park and with most of the characters to take your picture. They give you a card that you enter into the website to view your photos and can purchase from the website. I purchased the entire CD of over 100 photos. It's expensive – $150, but worth it considering each photograph costs about $15. You get copyright release so you can reprint them as much as you want. So I can use them for scrapping pages, printing photo books or just printing prints.
I'm going to be spending the next few months, I'm sure, scrapping my photos with a goal of putting together a couple of photo books for myself and my parents. Here is the first layout set I've created. I used Sahlin Studio's Enjoy the Moment kit from Scrap Matters for this double page spread.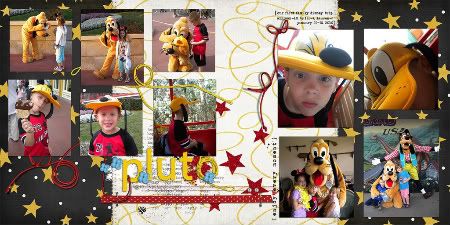 And here is each side individually so you can see it better: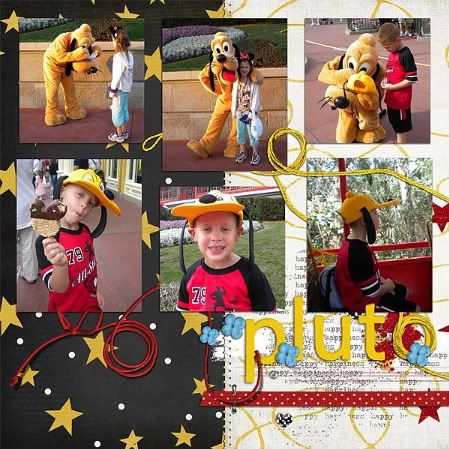 Each kid picked out some hats on the trip (as to be expected in Disney, right?) and while the girls each got some form of Mickey Ears, Ty wanted nothing to do with them. Instead, he picked out a Pluto hat, which is just adorable. I love Pluto & didn't realize how much until this trip. He's just so fun, isn't he? I've got lots more characters to scrap, but I think I have more photos of Pluto than anyone else.
I've got so much to get done today – laundry, cleaning, preparing for REC and Scouts and I still want to scrap some photos, so until next time…
Adios!
The End...For Now | File Under LO, random babbling | Leave a Comment |
---
January 11, 2009, 9:10 am
I've got a new kit and with it, I'm going to start a new promo for my SBB and ShopJMT kits – 2-Day, 1-Dollar Debut. For 2 days when I debut the kit, it will be at the low price of just $1. AND, better yet, I'll have a bunch of $1 specials running those 2 days at ShopJMT, too. So, here is MONKEY BOY – get it at ShopJMT or SBB for just $1: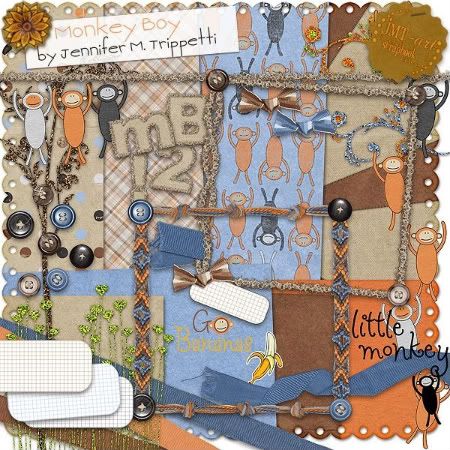 Wanna see more?
and elements…
And, here it is in action – some layouts by me & my creative team:
This one is mine & it's my dog, who turns one the end of this week. Everything is from the Monkey Boy kit with the exception of the orange letter stamps from Comfort Zone:
Here's one from Melissa, using just the Monkey Boy kit: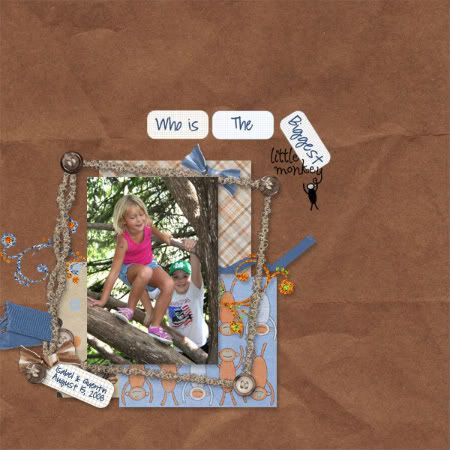 And two from Anna – she used the Monkey Kit and then in the 2nd one, my Photo Frame Basics (which are only $1 because they are in the "retired" section of my shop) for the negative strip: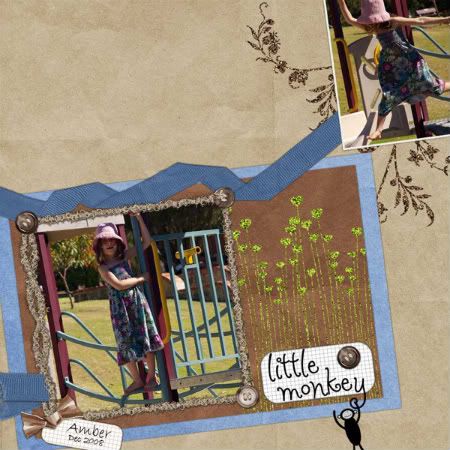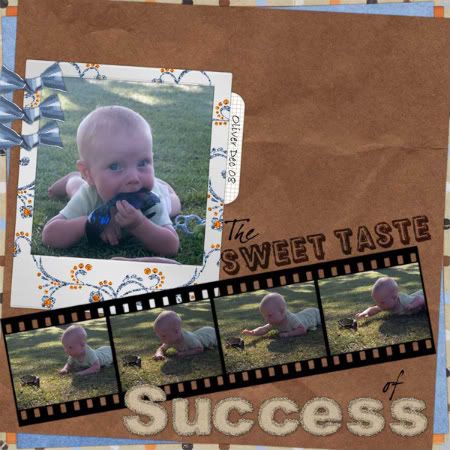 And one from Julie:
Aren't they all so adorable?! The kit really lends itself to those photos of your kids in trees, but you can see it's versatile, as I used it on a dog layout & Anna for a baby layout. There are certainly enough elements for those little climbing monkeys of yours, but enough other stuff for any other layout.
Finally, don't forget to check out the rest of my $1 specials at ShopJMT - there are a couple of full kits, some separates, an 3-pack alpha set and some element packs.
The End...For Now | File Under LO, new products, sales | 1 Comment |
---
September 6, 2008, 9:34 am
Sorry that I didn't post a tip yesterday – I'll continue with some tips next week. Probably not daily, but as often as they pop into my head, I'll post about them! Today I wanted to share with you some layouts that my readers have posted with my Green: The New Black kit (tomorrow is the big day! It'll be at SBE tomorrow!) Click on any of the images to be directed to a larger image in the gallery: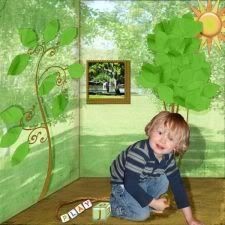 I think they all turned out fabulous, don't you?! Kudos to Jeannie (first 2), Debbie, Aly & Terri for such fab layouts! I'm amazed that most of them turned out to be related to some of my environmental posts! It's great that not only can I make a kit being inspired by the environment, but that you guys can then go & create layouts with the same inspiration.  I think the kit definitely lends itself to that, but as you can see in Terri's layout, there are so many other uses for it, too!
Stay tuned tomorrow when the kit is released, because if you have it already or pick it up this week, I'll give you the chance to win a $10 coupon to my store at SBE. I'll give you all the details about that tomorrow!
The End...For Now | File Under LO, announcements, random babbling | Leave a Comment |
---
September 4, 2008, 11:10 am
Paper or Plastic? That is the age old question of grocery shoppers everywhere. So which do you choose? You know what really bugs me about this question? When I go to the grocery store & they ask me if I want paper or plastic, if I say paper, they automatically bag the paper bag IN a plastic bag. Uh, what? If I wanted plastic I'd say plastic. I don't get it. Years ago this question came about because people were concerned about plastic bags. So there was a drive back to paper bags. But nowadays, it's like they ask it out of convenience instead of environmental concern. I personally can't stand those grocery store plastic bags. We get them everywhere. The drugstore, Target, the grocery store. I have a little caddy in my house that stores them & I do reuse them when I can, but they are so unbelievably frail that it's hard to reuse them sometimes. And, reusing them usually is for trash bags or doggie poo bags, so they end up in the landfill anyway. I do try to get paper bags at the grocery store because we use them to recycle our newspapers. So it's always helpful to have some on hand. Plus, I figure we get enough plastic bags from the other stores that we never need any plastic bags.
Of course the "green" answer to paper or plastic would be, "neither." Reusable bags are always better. Lately I see canvas or other reusable bags popping up everywhere. Almost every grocery store has them, I've seen them at CVS and Target, too. I purchased a few at Wegman's a few months ago: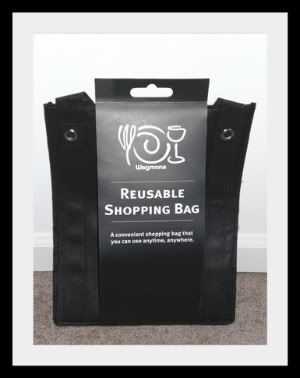 You know what my biggest problem with these bags is, though? I always forget them. I'm trying really hard now to organize my shopping trips better – clip coupons, read the sales flyers and make sure I've got everything in order before I shop, because if I don't, I either a)forget the bags or b)shop on a whim and end up spending more money. So by planning and making sure I remember my bags, it's actually saving me money.
What if you don't have reusable bags? Which IS better – paper OR plastic? You'd think paper, right? Well, not necessarily. Paper makes a pretty big environmental (or ecological?) footprint. The amount of trees it takes to create the bags is almost unfathomable. This source says a 15-year old tree makes 700 bags. I have no idea how reliable that is, but here, MSNBC says to make all the paper bags we use each year, it takes 14 million trees. Wow, that's a lot of trees. Add the actual amount of trees being used to the amount of fuel needed to run the plants to produce the bags, chemicals, etc. and you're talking some major air pollution. (A whopping 70% more than plastic, according to MSNBC.) OTHO, plastic is not much better. Again, MSNBC says it takes 12 million barrels of oil to produce the plastic bags we use each year. And they amount to 4 times the amount of solid waste as paper. And the plastic never decomposes in a landfill. Biodegradable plastic bags would be nice, but I just checked my stash of plastic bags and not one of them says it's biodegradable.
The whole thought of solid waste to me is just daunting. The amount of packaging used in everything anymore is sickening to me. I hate it when we get something new & I see all this plastic and cardboard, packing peanuts, plastic ties, large boxes used to shop a small battery…it just makes me so angry that things have to be that packaged. And that's not even considering food packaging. I already admitted yesterday that I run a disposable kitchen, using rolls and rolls of paper towels, individual servings of crackers and cookies…gosh, I'm just adding to the mounds of trash out there, aren't I? It's depressing to think about. Before my last job as an environmental specialist, I worked as a waste disposal coordinator for both hazardous and non-hazardous waste in industry, so I saw the amounts of waste generated each year by industries and it's amazing to me how much of the general plant trash is packaging waste.
Of course packaging is probably a topic for another blog post completely, as you can see I've rambled on about it enough already.
So that I don't end this blog entry on a really depressing note, and since we're talking about the grocery store, I wanted to share with you an amazing product find I've recently discovered. This is completely NOT environmentally-related, but I love this stuff so much, I had to share. For some reason, I can't find this in every grocery store, but I did find it at one of the several in our area:
I simply love this stuff
I am a sucker for sour things. I love a good, tart lemonade. I LOVE Rita's tart water ices (green apple, lemon, their old lime & even their new Key Lime). I had this stuff at my brother's house a few months ago & just had to find it here. If you like the tart stuff, you'll love this.
Oh, yeah, and another layout share. This is another one from our Pocono trip this summer and another one of my DS, Ty:
I used a template by Jen Caputo, but everything else is by me. The red ribbon wrap, bow and crown are from Cosmic Bowl at SBE. The little flower in the bottom corner is from He Loves Me at SBE and everything else is from my new kit, Green: The New Black, coming to SBE on Sunday!
That's it for today! Happy Scrapping!
The End...For Now | File Under LO, new products, random babbling | 3 Comments |
---
September 3, 2008, 11:13 am
Today's e-tip is about computers. As digital scrappers, we're pretty reliant on our computers, right? So what do you do with your old one? Me? I've donated them to a local charity that rebuilds them to distribute to needy families and schools. Have you thrown yours out? Recycled it somehow? Here's the scoop on computers. I did a little digging around the EPA's website for most of this info, just to back up my dusty old knowledge of it. So, some of the specific info here may only be geared towards those of us in the U.S.
Why is it so bad to just dispose of a computer in your trash? Well, besides the fact that it'll just sit in the landfill, along with lots of other bulky stuff, computers have all sorts of nasty stuff in them that are hazardous to the earth. There's lead – lots of it, in a CRT (the monitor). There's cadmium in rechargable batteries used in laptops. Those are both heavy metals which, when put in a landfill, will leach into groundwater. Surely you've heard of all the toy recalls because of toys being made with lead paint – well, that lead from our computers getting into the groundwater is just as bad. You've got a flat panel montitor, you say? Well, there's mercury in those – another heavy metal.
So what can you do? Well, you could donate old computers to charities. I totally forget how I found the one near me – I think it was listed in the newspaper or something, but you could try calling your local government & asking if they have any places that accept donations of old computers (or e-waste, it's sometimes called). Now, I haven't checked out this site much very recently, but here is a link to a site that offers info on finding a place to donate your computer (or cell phones, printers, any electronics). It's called Earth 911.
How about recycling? Instead of donating, there are places that actually recycle computers & electronics. The EPA has a helpful little page here that can help you find a recycler in your area. As an example, I'll use my own EPA Region III. I'm in PA and when I follow the links, I get to this page. It tells me county by county how to recycle my e-waste. And, it even lists Electronic Discards Collection Events. How cool is that? I can find out exactly when they're having an electronic discards drive & bring my stuff right to them.
Is there anything else I can do? Yeah, you could try to buy green. There's that word again – "green." Look for products that claim to have fewer toxic parts – less mercury, less lead. Maybe ones that use less packaging or use recycled materials in the make-up of the computer. This is kind of hard for us as consumers because we really rely on the computer companies to be honest with us & to tell you the truth, when picking out a computer, there is so much to look for, trying to find "green" computers may be difficult. You can always start with ones that are energy efficient. There's the "Energy Star" rating to look for. That tells you that it's energy efficient. That's a good start.
Finally, EPA has this little partnership thing going called Plug-In to eCycling.
EPA has partnered up with lots of retailers and manufacturers to help out us consumers and enable us to e-cycle. You may have seen this – I know I have with my HP printer ink. When I buy new ink, there's always info there on how to return the old ink cartridges so they can recycle them. (I don't do that, though…I donate all my used ink cartridges to my kids' school who then sends them all back to HP and they actually get money for it – even better, right?)
So there you have it. Put that in your pipe and smoke it. That's enough info to last you a lifetime, huh? Recycle, e-cycle, freecycle…seems "cycle" is the hot word this week. On that note, let me first say that I've emailed a few people who have contacted me about yesterday's entry and given out a few free kits to those that promised layouts. So have a look in the galleries this week for some layouts with the new kit, Green: The New Black coming to SBE on Sunday. Here is a layout I did with the kit: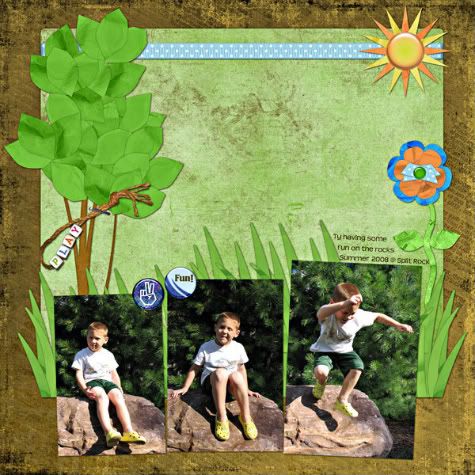 (Credits include other items, too. Everything is by me & in addition to the new "Green" kit coming to SBE, I've used the following: Flair from Jelly Buttons by me at SBB, Dotted ribbon from Just4Girls by me at SBE. And I modified a "Smarties" template by Teresa Ferguson.)
Oh, and a little "it's a small world" update on my Freecycle post. After I posted a few times on my local Freecycle Yahoo Group, I got an email from one of the mods. She was a childhood friend of mine & lived down the street from me all my life. How's that for weird? So Freecycle does more than help you recycle, it helps you touch base with old friends, LOL!
That's it for today! Happy e-cycling!
The End...For Now | File Under LO, new products, random babbling | 3 Comments |
---
August 23, 2008, 8:08 pm
First off, all next week, starting on Monday, I'm going to have some blog freebies which match my Round 3 submission for FPD's Teacher's Pet. It was a mini kit called Strawberry Fields Forever (and, that mini kit will be available as one of the freebies, too.) I'll have 3 different new freebies each up for 2 days at at time and then the original mini kit up for 2 days before all of it goes into the store as a complete kit. Here's a preview of what the final kit will look like, so be sure to stay tuned all this week & up through next Monday so that you can grab the entire kit for free: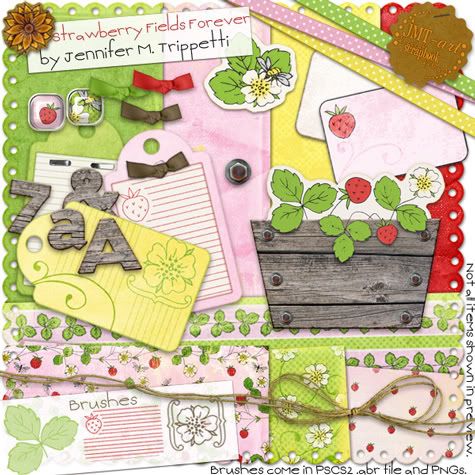 It will be available for sale on September 2nd at ShopJMT and my store at SBB, but, as I said, get it all for free here on my blog in parts over the next week or so.
Next bit of news: I broke my PR for a 5K this weekend. My previous PR (personal record) was 33:06, but today I ran a 32:54 5K. I was SO happy to make it in under 33 minutes! Yay me! I did finish 120th out of about 140 people, but I'm estatic about my time. Of course I came home, pigged out on carbs & then crashed for 3 hours, but that's pretty much what I do after EVERY race.  This makes 6 races for me this year& that alone may just be another personal record. Especially since I've got at least 1 more coming yet in November, and maybe one in October, too. Heck, if I can find a late September one, I'd do it.
And finally, a couple of laytouts to share that I did recently. Girly ones, too. Click the images to see the gallery postings with all the credits: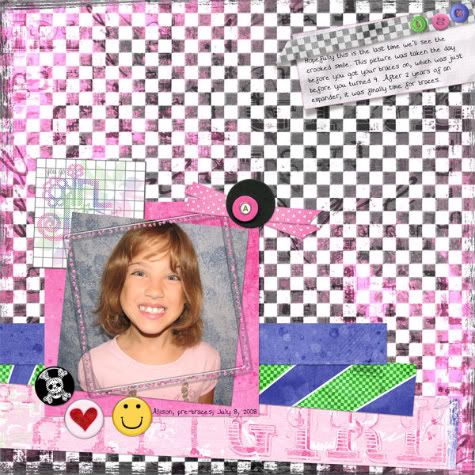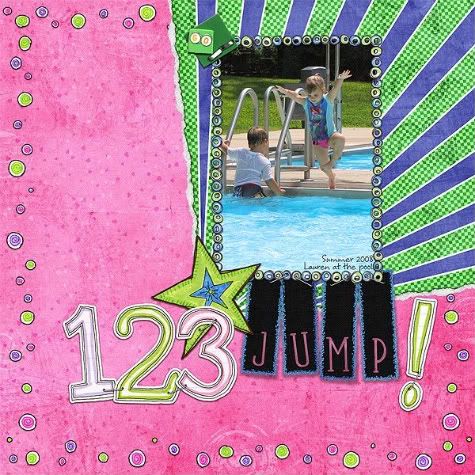 The End...For Now | File Under Jenn Runs, LO, announcements | Leave a Comment |
---
July 1, 2008, 4:09 pm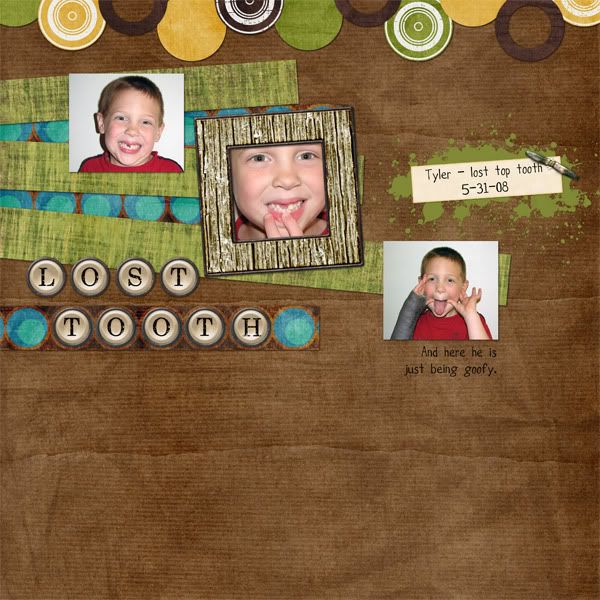 Ty lost his first "big" tooth – one of the top ones & I thought the pics called for scrapping. It's amazing how he already lost 2 of his bottom teeth, yet everyone notices now that he lost the top one. (I should have journaled that, huh? Hmm, I see a revision coming to this LO!)
Credits: Everything from my Grab Bag! at SBE
Boyish Charm elements & papers
She's Krafty background paper
She's Krafty type key alphas
Urban Labels
Font is Hockey is Life
Go pick the bag up now for just $2.95! It'll only be on sale until Saturday and then each product will go into my store separately!
The End...For Now | File Under LO | 1 Comment |
---
keep looking »