August 23, 2008, 8:08 pm
First off, all next week, starting on Monday, I'm going to have some blog freebies which match my Round 3 submission for FPD's Teacher's Pet. It was a mini kit called Strawberry Fields Forever (and, that mini kit will be available as one of the freebies, too.) I'll have 3 different new freebies each up for 2 days at at time and then the original mini kit up for 2 days before all of it goes into the store as a complete kit. Here's a preview of what the final kit will look like, so be sure to stay tuned all this week & up through next Monday so that you can grab the entire kit for free: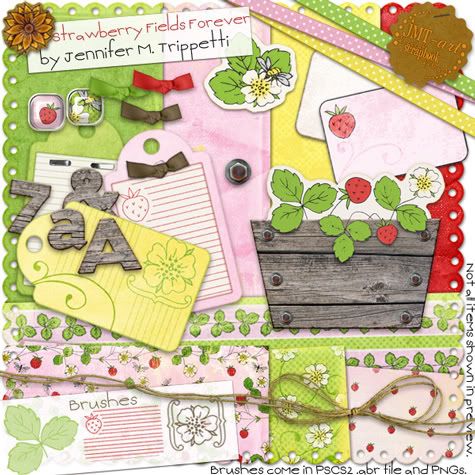 It will be available for sale on September 2nd at ShopJMT and my store at SBB, but, as I said, get it all for free here on my blog in parts over the next week or so.
Next bit of news: I broke my PR for a 5K this weekend. My previous PR (personal record) was 33:06, but today I ran a 32:54 5K. I was SO happy to make it in under 33 minutes! Yay me! I did finish 120th out of about 140 people, but I'm estatic about my time. Of course I came home, pigged out on carbs & then crashed for 3 hours, but that's pretty much what I do after EVERY race.  This makes 6 races for me this year& that alone may just be another personal record. Especially since I've got at least 1 more coming yet in November, and maybe one in October, too. Heck, if I can find a late September one, I'd do it.
And finally, a couple of laytouts to share that I did recently. Girly ones, too. Click the images to see the gallery postings with all the credits: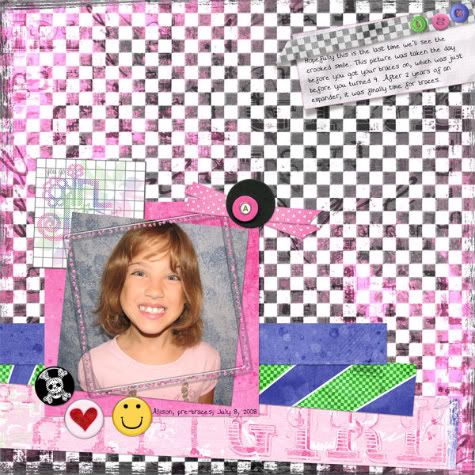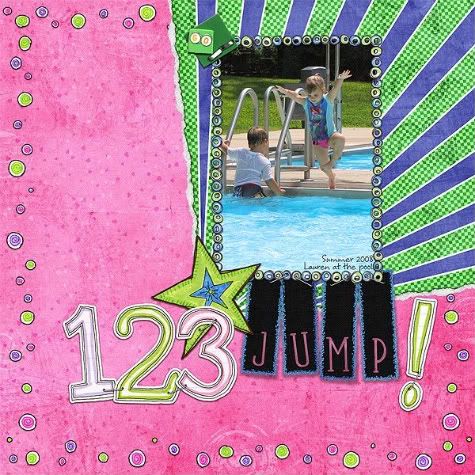 The End...For Now | File Under Jenn Runs, LO, announcements | Leave a Comment |
---
July 16, 2008, 11:03 pm
Ugh. What a horrible 5K I did tonight. I didn't even look closely at the clock when I finished, but it was around 36:30. I even walked some of it. It was hot, humid & hilly. Three things you don't want for a race (or heck, anytime). Plus, I haven't trained for this. I kind of took a break from hard training after doing the 10K and I paid for it. Plus, I ate dinner just before I left. Major mistake. A full belly doesn't go well for an evening run. And, besides, the amazing food they had post-race, I just couldn't enjoy because I was full from dinner. A local tavern sponsored the race and they had wings, hoagies, hot dogs, soft pretzels…all of my favorites! What was I thinking eating a full dinner before it?
Well, one thing for certain – I have to get back to training and training hard. I've gained 20 pounds since April – mostly because of the nasty prednisone I was on for hives for 5 straight weeks. And, man, I just can't get that weight off. Plus, I'm still on the doxy for Lyme Disease (2nd round) and I get sick if I don't eat enough before I take it. Just another week or 2 of this round of Doxy and then I'm done. I see the specialist the end of the month & we'll decide what, if anything, I have to do next.
**Official race time now posted: 7-16-08 Phil's Tavern 5K – 36:31
On a business note, I don't think I ever posted about my kit, Ocean Life. It's available at SBB and ShopJMT. At ShopJMT, you can get a special deal on the entire kit PLUS the brag book. At SBB, you can get everything individually or the full kit by itself.
Click the image for the kit PLUS brag book, or individually, here are the links for SBB: Solid Papers | Patterned Papers | Elements | Full Kit | Brag Book.
The End...For Now | File Under Jenn Runs, new products | 1 Comment |
---
July 4, 2008, 7:40 pm
Today's 10K time: 1:11:10. It was the Washington Crossing Revolutionary Race and I haven't run this one for quite a few years. I've actually never run the 10K, only the 5K, but it's such a nice course, I want to do it more often. It's kind of a hike to get there – I was up at 5:15 to get ready and the race starts early – the 10K at 8:30, but being in July, the weather can get quite steamy, so I guess that's why the do it early. And already I'm looking at my next race coming up in a week and a half. It's a 5K on Wed. 7-16. What am I thinking??!
I'm not sure  I've actually blogged each & every race this year, so I want to keep track of it here:
2-16-08 Ambler Frostbite 5-miler – 53:12
5-10-08 Hatfield I Can Run 10K – 1:07:54
6-25-08 Tex Mex Race for Open Space 5K  – Chip Time: 33:17, Gun Time 34:38
7-4-08 Washington Crossing Revolutionary Run 10K – 1:11:10
The End...For Now | File Under Jenn Runs | 1 Comment |
---
May 10, 2008, 12:13 pm
Well, I beat my goal of finishing the 10K in 1 hour & 15 minutes. Made it in just under 1 hour & 8 minutes. And, get this: I was dead last. Even after the 60+yo guy who I thought maybe I could take in the last mile, but he was just too far ahead. I'm pleased with my time, I feel great, so there's no reason for me to be upset that I finished last. The race was a 5 & 10K at the same time & only 30 people ended up doing the full 10K, so what can I expect? I came in 30th, I guess I could say. (And a congrats to my friend, Laura, who got 3rd place for our age group in the 10K. Considering probably more than half of the 10K people were in our age group, that's pretty good!
The End...For Now | File Under Jenn Runs | Leave a Comment |
---
May 9, 2008, 8:36 pm
That's the name of my most recent iTunes purchase – Harder to Breathe by Maroon 5. I was at Saxby's (a coffee shop) the other day & it was on Sirius' The Pulse station. I googled it while there because I wasn't sure who sung it & found out it's Maroon 5. I figured it was a perfect running song & considering I'm doing my first 10K tomorrow, I grabbed it for my playlist. Nothing like doing a run with a fresh playlist. I used to be all strict with my playlist & whatever I trained with, I had to run with. But lately I've been mixing it up a lot. Here's the playlist I put together for tomorrow's run. Quite a variety, I think:
The first 6 songs are from a "Running Through the 90s" playlist I found on iTunes. Then I've got my Power Song, Bleed it Out by Linkin Park – that one really gets me going. So I mix in some hard stuff & then mellow out with a block of Modest Mouse. Then, at the end, I threw in a bunch of weird stuff, just to get me through the end. I *think* I've got more than enough songs on there. I sure hope I don't even make it to the end because that would mean I've totally blown my goal of finishing in 1.25 hours.
Well, obviously, race-mode has already set in, because I've spent the last hour or so figuring out my playlist, so the stress has already begun. I already warned DH that by tomorrow morning, I'll be in full blown race-mode, so he is to just ignore me. I get really wigged out on race days. It's weird, because it's not like I really am that stressed about the race, but for some reason, a few hours before the race (or the night before), it just consumes me and it's all I think about. I spend 20 minutes fixing my shoes, blowing my nose, fixing my shirt…everything must be perfect for the start. I guess it's how I get in the zone.
Well, I think I'm going to spend an hour or so vegging in front of the TV with my dogger-doo and then hit the sack. Sometime later this week I'll have to update on my hives. Long story short: they're still here. 4 weeks of hives. Bleh. I'll leave you with a few LOs I did this week, one of the aforementioned dogger-doo and the other of Lauren. Both are using products I purchased on National Scrapbook Day, which was this past Saturday. Click the pics to see the credits in my DST gallery.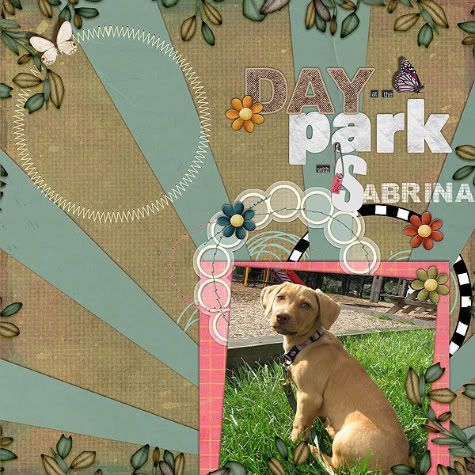 "Is there anyone out there cause it's getting harder and harder to breathe" Maroon 5, Harder to Breathe
The End...For Now | File Under Jenn Runs, LO, random babbling | 1 Comment |
---
March 29, 2008, 9:26 pm
What am I talking about, huh? Dogs – as in the animal? Or as in slang for a new pair of sneakers? Well, since I just posted a month and a half ago about our new dog, Kip, I couldn't possibly mean a new dog-animal, could I? Or could I? Well, let's just say I've got 3 new dogs to show you. The first two dogs I speak of are indeed a new pair of running sneakers. Behold The Nike Air Equalon 2: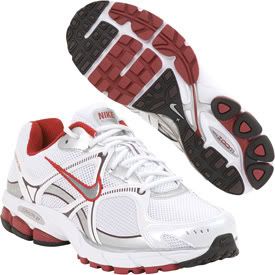 Sharp, eh? And they're red. That's a change for me, because my sneaks are usually pretty low key. I've been all about the Asics Gel Foundations for years now. I think I've had 4 pairs in the past 2 years? But since I got an iPod and the Nike+ running system, I wanted to try out a pair of Nike+ enabled shoes. My BIL owns a running shoe store, Bucks County Running Company & he said these are some of the most stable of the Nike+ enabled shoes for women. And stability is what I need. They're also very cushy and comfy. We'll see if they hold up to my massive frame running a slick 5-6mph in them;) I took them out for a walk today & they felt good, so let's hope next week's treadmill runs are successful. I did 5 miles on Friday (in an hour) and my shins are a little achey. It was time I got new shoes, so these come at the perfect time. I'm also training for my first 10K ever in May, so it'll be good to have a new pair of dogs to get started with now.
And now for the OTHER kind of dog. The animal kind. Yes, I did indeed get a new dog, too. Kip, as much as I loved him and he loved me, he just wasn't right for our family. Small breed, kids…just not the right mix. He was snapping at them, agressive and territorial at only 5 months of age. I tried all I could & even considered a behavior specialist, but in the end, after he bit & drew blood on 2 of my kids & held each & every one of them at bay in their own house, I had to give him up. The good news is that only 4 days after I brought him in, he was adopted to someone without kids. Phew. And then a few days later, we got Sabrina: (Oh, and please excuse the photo quality – it's from my cell phone – gotta download the regular camera pictures & then I'll post more!)
I know, what kind of irresponsible person am I? I get a dog & give it up in a month and then a week later, get a new dog. Crazy, huh? But, let me explain. Sabrina is a rescue dog. Her Mom was found tied to a stake with all her puppies and whoever owned them had neglected them. We were in the right place at the right time. Just when we gave Kip up, these adorable mutt pups were available. So I made contact & we got her in a week. Mom was a Basset Hound/Beagle mix and they don't know who the Dad was. We're thinking lab, because of her coloring & eyes. Her eyes are gorgeous – very light & greenish. She has Basset legs & paws for sure – short & squat. I think her head is Beaglish, but her coloring is definitely not standard Beagle or Basset (and yes, there's a name for Basset/Beagle mixes. Wait for it…Bagle. But I refuse to call her that. She's a mutt & that's all there is to it). It'll be interesting to see how big she gets & what she turns into. So far she's been amazing. At 8 weeks, she was housetrained by the foster Dad. We had some issues with the crate & separation anxiety, but she's over it now. The biggest problem now is that she doesn't like to walk on the leash. I think she's a very submissive dog (but not like peeing submissive or like turn over immediately & play dead submissive), so she likes to be behind me. So walking on a leash is not her thing. I kind of force her to do it & after about 5 minutes, she's good. I think she'll get better. I've already taught her "sit", "down" and "crate". We're working on "out" and "leave it". She's very playful with the kids, she does like to nip at them, so we have to work on that, but she's in no way aggressive towards them. It's all playfulness. She's also really good with other dogs. I think she'll be perfect for us & am so glad we found her!
The End...For Now | File Under Jenn Runs, random babbling | 2 Comments |
---
February 13, 2008, 4:42 pm
I wonder if that still applies to a 5-miler. Because, man, I've taken too much time off. Not that I wanted too, it just happened. Check this out:
I do 50 miles in Jan. and can't even make 10 before the middle of the month. Because I'm not going to be running anymore this week & I've missed my run yet again today. I had planned on getting 5 miles in today, but the weather didn't cooperate. 2-hr late arrival, no morning Kindergarten which means even if I wanted to get to the gym, I'd have only just gotten there now, but baby sitting is closed, when school is closed/delayed. Even if it was open, I wouldn't have enough time to get my 5 miles in before they close for lunch. Well, I normally do well when I take a week or so off from running, so let's hope Saturday's race goes well. It's gonna be a cold one, according to the forecast:
That's a high of 30º which means at 9am it'll be in the 20s. The overnight low from Friday is supposed to be *only* 24º which is actually good. Because last year it was in the teens when I left the house for the race & it warmed up to about 20-22 by race time. To have a good solid mid-upper twenties for the race isn't all that bad. (And, yes, I'm trying to psych myself up for this by looking at the bright side.)
So enough racing woes and worries. How about we talk Webkinz? My kids love Webkinz. All three of them – the 8yo had some first and for Christmas they all got some (as did I *snicker*). It's funny because I love to see how they handle their Webkinz accounts & how it relates to real life. Bear with me, because I do have a point here. My 8yo is mostly responsible, but not all the time. When she feels like it, she takes care of the Webkinz and she always manages her Kinz Cash really well, knows what she needs to do if they're sick, hungry, etc. She knows how to get Kinz Cash if she needs it. But she doesn't always have the dedication to take care of them all the time. Some days she just doesn't get online to do everything she's supposed to. My 5yo OTOH, he gets on every day. He spends money every day. He plays the games, gets a job, complains that they're too hard, knows there are certain things he needs to do every day, but often gets caught up in the Arcade playing games & just doesn't get everything done. He also needs me to play stuff for him to get him "4 numbers" so he can buy yet another yard. Or another TV or a fridge because he sold the 3 that I bought him already. He doesn't understand that when he got his Lion and it came with a King's Throne that it was an exclusive item that can't be bought anywhere. So when he sold it, I was devastated, but he didn't seem to mind. Because he did get a good bit of money for it & it enabled him to buy, oh, I don't know, another stove or skateboard. I have to take care of his Webkinz for him a lot because if I didn't, he'd never have any money to even buy food for them. Then there's the 3yo. She just likes Webkinz because they're fun and can't really do much, so her brother & sister have to do most of the work for her. But she can still sit & observe and feel like she's a part of it.
So, do you follow me know? Do you see how closely related that is to real life? The 8yo doesn't need much supervision, but doesn't always get all the necessary stuff done. The 5yo just plays & plays & needs someone to take care of the important stuff. And the 3yo, well, she needs help with just about everything. I find it amazing that their Webkinz Worlds reflect their real lives, LOL! And on that note, I want to leave you with a glimpse into my Webkinz World. This is Blitzen's Dining Room:
I'm most proud of my Goober's Lab Trophy. I've won 2 of those, actually & sent one to my oldest DD. Ty wants me to send him the other one, but I'm afraid he'll turn around & sell it! I have no idea how I won either of them. The first one I actually saw a message "you have won a prize" and when I was finished, I saw it in my dock. The second one I never even saw the message and then there it was. I think my high score on Goober's Lab is a little over 42,000 and I've made close to 300KC on it before. And, yes, I'm a goober myself. I know it. Anyway, so come on, tell me I'm not the only Mom that enjoys a little Webkinz! I know there are plenty of others out there!
The End...For Now | File Under Jenn Runs, random babbling | Leave a Comment |
---
January 30, 2008, 4:46 pm
Today I hit a milestone – I made it 50 miles running in January. And, how cool is this:
That's the data that I get from my Nike+ system that works with my iPod to track my runs. (Goes to show you how bad my run was today! Up and down, up & down. Those hills aren't incline – it's my speed dropping throughout the 5 miles. I am having trouble getting the thing perfectly calibrated because my treadmill said I did 5 miles & the Nike+ system had me going a little faster, to complete 5.25 miles. Overall, I'm happy with the system because it'll give me a better idea of how much I run when(if) I run outside. I'm doing a 5-miler in a few weeks, so that'll really give it a test of the calibration, too.
Moving on to business…have you seen this:
Keep your eye on my site, because soon I'll be opening up my own personal digi-store! I'm excited to be getting my store ready and it takes a lot to get it all prettied up and loaded with products. Not to mention that I've got some new stuff that I want to debut when the shop opens! I'll have a great new kit to give away with any $5 purchase, so you won't want to miss the opening! I'll post a preview and some sneak peeks of some new items in the coming weeks before the grand opening. And, I can't take all the credit for the store myself. Yes, it's my own personal store, yes it's all my stuff, but Grace Bennett has been wonderful in getting it set up for me. She's one smart gal when it comes to web design!
Gosh, what else do I have to say? I really want to get back to blogging and man, have missed it so much! Oh yes, new product announcement & then on to some kid stuff. I've got a paper pack plus extras up at SBB right now, just in time for Valentine's Day: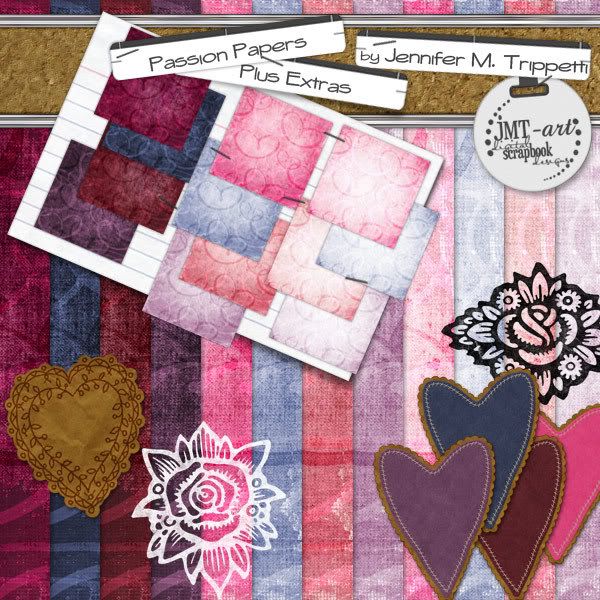 This paper pack consists of 3 different papers in 4 colors. The 3 different papers are all different hues – there's a set of deeply colored papers in pink, blue, red and purple, a set of medium, softly colored papers in pink, blue, red and purple and a set of slightly colored papers (mostly white) in pink, blue, red and purple. In addition, I've included 4 suede hearts, a doodled paper bag heart and 2 rose floral stamps which include black and white PNGs plus an .abr brush set created in PSCS2. Purchase this set at SBB for $3.00.
Here's a close up so you can see things a little better: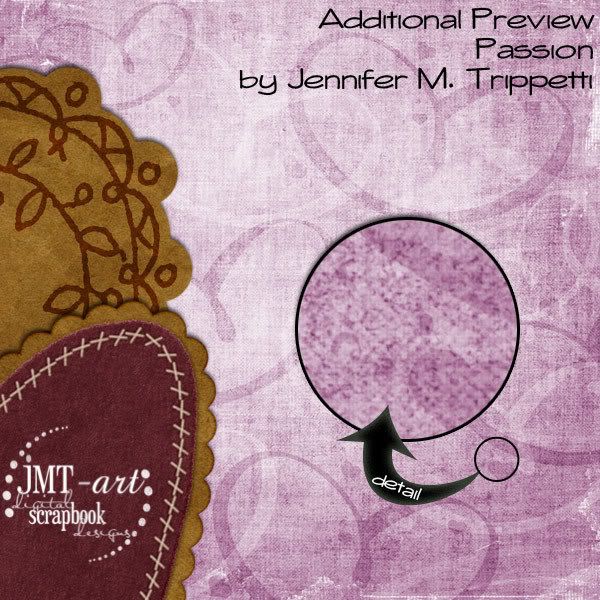 Sorry for the squishy previews – I didn't have smaller ones available & had to squish these down here. Click on either of them to see them better at my SBB store.
Kid news: Just a funny from my son, Ty, who's 5 and in Kindergarten. I was asking him to bring me his backpack so I could check it for papers and stuff and he gets a weird look on his face as he brings it to me. I open it up & there's a paper in there – a drawing by someone else. At the top, written in Kindergarten writing is "Angelina." Knowing that the kids get embarrassed at the mention of anyone of the opposite sex, I just kind of blew it off and said, "Oh, what a nice drawing, does that say, 'Angelina'? Did Angelina draw this?" He gets all shy and says, "Yes." I then come to find out that Angelina isn't even in his class, she's in the other class, but rides the bus home with him. So it seems there's s little thing going on there, by the way he was acting. LOL! My son, the ladies man at age 5. He's so cute and I think he knows it! LOL!
Well, I'm off for now. We are getting a new TV today & it's due to be delivered this afternoon so I'd better make sure the floor is clear of toys or else the delivery man won't be able to get it in the house. And since I just spilled coffee on my shirt, I'd better go change & then do some laundry. Have a happy day!
The End...For Now | File Under Jenn Runs, announcements, new products | Leave a Comment |
---