February 4, 2010, 1:02 pm

Back in October I started a diet program called Take Shape for Life by Medifast. The weight started dropping off quickly but by Christmas (actually around Thanksgiving), I hit a plateau. At least that's what my doctor calls it. I call it getting bored & cheating. The diet is a really good one. It's doctor supervised and it's a 1000 calorie a day diet. It's low carb – not no carb, just low carb, and based on the ideas of the Zone diet, as far as I can tell. But, as my doctor says, you need a PhD to understand the Zone Diet and Medifast makes it simpler. The basic premise is that you eat 5 Medifast "meals" a day and then one "lean and green" meal a day. By eating every 2-3 hours you aren't hungry (seriously, I'm not hungry) and the Medifast meals are high protein (soy) meal replacement bars, shakes and even pretzels, cheese puffs, oatmeal, soups and puddings. The food is really good. It satisfies my crunch craving and even my sweet tooth. Some of my favorite items are the S'mores Crunch Bar and the Chili Nacho Cheese Puffs. They are small, don't get me wrong (only 90-110 calories per "meal") but they are good. For lunch often I'll have a soup, chili or stew meal and add some celery to it.  For the lean & green meals you get a really healthy portion of a protein (between 5 & 7 ounces, depending on the protein) and then 3 cups of veggies throughout the day or all at once. No fruits, no sugars, no extra carbs except for what's in the meals. I do miss the breads, but if I stick to the plan religiously, I don't miss them as much. It's like the more I eat, even if it's just a bite, the more I crave.
I've lost 23 pounds officially and am really feeling better. I have to get back to exercising, though, because I know that will help, too. But, it'll also throw off my calorie balance and at only 1000 calories a day, I have to be very aware of that. I don't think I'm going to get back into running anytime soon, but I do want to start a serious walking program. My Mom is joining the Y tomorrow, so I'll have incentive to go more often because I want her to get healthier, too. If I am brave enough, after I've lost about 30 or 40 pounds, I'll post before and after pictures. I know I've lost inches, but so far have not bought new clothes. I'm just fitting better into old clothes & pulling older shirts out of the closet that got too tight last year. By this summer I want to feel good wearing shorts and tank tops and hopefully be down at least one size in pants. My ultimate goal is to be 150 pounds, but for now, my short term goal is 170. I've still got a ways to go.
Now for some Disney Layouts. These were created with QuickPages. Everything is by Libby Weifenbach, Do You Believe in Magic at Sweet Shoppe Designs. (QuickPage with additional elements from the kit added.) Font is KGD DeeDee Print. I did a little bit of journaling on the left side of the page – it was a sort of stream of consciousness journaling. I just plopped down bits & pieces of our memories, good and bad, about Animal Kingdom. I'm happy with the way it turned out and may do that for each park.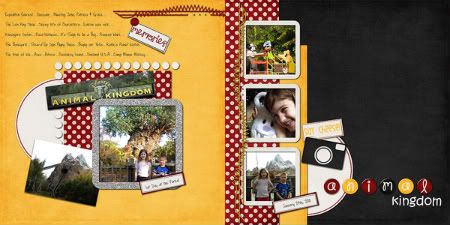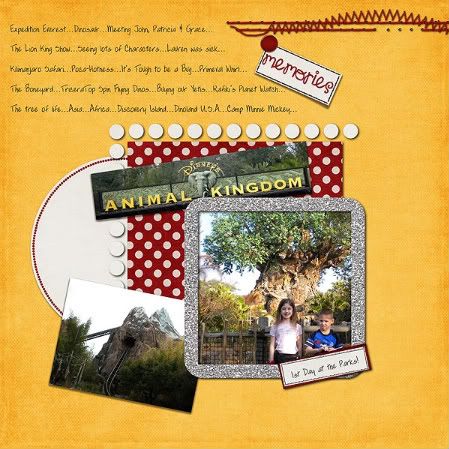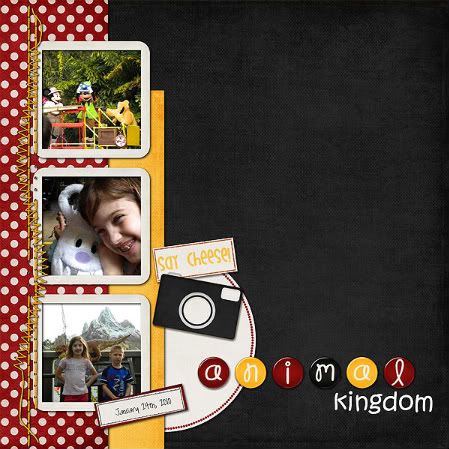 That's it for now. Until another time…
Adios!
The End...For Now | File Under LO, fitness, random babbling | Leave a Comment |
---