February 7, 2010, 10:46 am

The R-word is one of those words I cannot stand. I don't know why, but I can honestly say that in my adult life, I have never used it. I can't stand to hear it from people, to read it on message boards or hear any jokes about it. I have no personal reason why the word bothers me. I don't think I even know any mentally challenged people. But hearing people use that word drives me insane. You an help to change the conversation. Read on to help eliminate the use of the R-word in everyday speech.
From the R-word website: Actor John C. McGinley of "Scrubs" shares a message about why you should pledge to stop using the word "retard(ed)" and begin helping Special Olympics and Best Buddies International create a world of respect for people with intellectual and developmental disabilities. Join us on 3.3.10 to make your pledge to end the R-word.
The End...For Now | File Under announcements | Leave a Comment |
---
October 22, 2008, 10:08 pm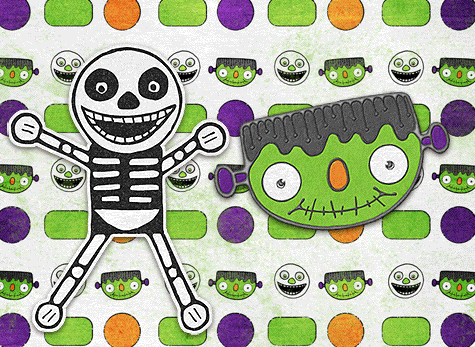 (Yes, I know it's been forever. Life has gotten in the way. But, hey, check out this cool kit I just put up! Halloweenies at SBB or ShopJMT!)
The End...For Now | File Under announcements, new products, random babbling | Leave a Comment |
---
September 11, 2008, 11:48 am
Ever since I started posting my environmental tips last week, I've been trying really hard to abide by them. As for an update, I can say happily that the kid's (and DH's) lunches have been a little greener so far. I've gone to using plastic containers (I bought some Ziploc brand ones that work well) to pack their sandwhiches in and then I usually put a snack right in there with the sandwich. So, although I did buy a bunch of individual serving size things before school started and I will use them up, when I can, I'll start buying more large bags to cut down on the packaging waste.
I've also got a system set up now for grocery shopping & honestly, being prepared is what I need. Because if I review the sales ads, make up my list & then go shopping, I'll remember the reusable bags. Otherwise, when I do a spur of the moment trip, besides spending more money, I usually forget my bags, too.
Now, how about a new tip? This one is about your car & gas. Until recently, I've totally been a violator here. Topping off your tank when you fill up with gas – Don't do it. I never understood this. I mean, if I'm careful, how can it hurt, right? Why not just top it off to get that extra little bit into my tank?
Well, gosh, check this out, straight from the EPA. Below I've summarized their reasons (in bold) & then added my commentary.
Topping off the gas tank can result in your paying for gasoline that is fed back into the station's tanks because your gas tank is full. Although I don't *think* we live in an area that uses vapor recovery on the gas lines (I remember years ago seeing them, but lately they're not on our pumps), I had no idea that some gas could get fed back into the line.
Gasoline vapors are harmful to breathe. Well, that's a given, I guess.
You need extra room in your gas tank to allow the gasoline to expand. I had no idea this was the case. I actually had my check engine light come on for a few months & the final diagnosis was that something was wrong with my vapor recovery system or exhaust something or other. Anyway, initially one shop told me it was my gas cap (isn't that, like, a standard thing with bad auto shops? "Oh, your check engine light is on? We'll diagnose that for $85," and then the answer is always, "It's your gas cap." So after getting a new gas cap, it was still on & finally we took it to another shop & they found a crack in a hose somewhere underneath the car. I wonder if me topping off the gas caused this.
Topping off your gas tank may foul the station's vapor recovery system. Again, I had no idea that it could cause ill effects like this!
So the bottom line is, when the gas pump clicks off, just let it be. Because even if you don't think you're causing any troubles, the vapors could be wreaking havoc on the air around you.
Finally, don't forget about the layout challenge I posted about below! Get your entries in to win!
The End...For Now | File Under announcements, random babbling | Leave a Comment |
---
September 8, 2008, 5:38 am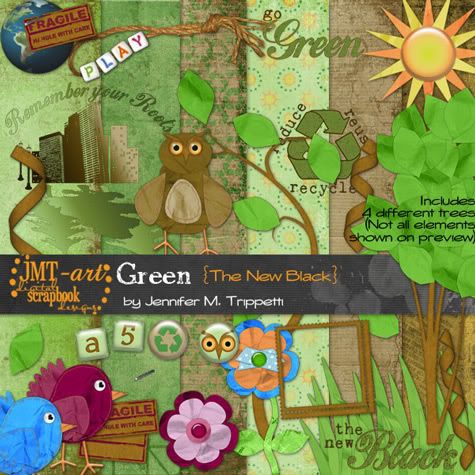 Go Green – it's the new black!
I've got a little layout challenge for you & one random winner will get a $10 coupon to my store at SBE. 2 other random winners will get a $3 coupon to my store at SBE. EVERYONE who participates will receive a $5 coupon to my personal store at ShopJMT. The layout must be created with my new kit, Green: The New Black and posted in the gallery at SBE. So, buy the kit for $3.74 and then get a $5 coupon in return. PLUS, have a chance to win more. Not bad, huh?
Here are the specifics:
1. Purchase my new kit, Green: The New Black at SBE before Saturday, 9-13-08. It's "In the Spotlight" through then, so you'll get it for just $3.74, which is 25% off the retail price. If you've received this this past week as part of my pre-release promotion, then you're in luck! No need to re-purchase.
2. Create a layout and post it in this gallery here. The layout must contain primarily products from this kit (but you are free to add other elements or papers from other kits).
3. Come back here to THIS VERY BLOG POST and post a comment with your layout link in it. Layout must be completed and comment posted by Sunday, 9-14-08, 11:59pm EST. (Note – if you can't get comments to work, send me an email at blogmail "at" jmt-art.com. I do have to moderate comments, but so far haven't gotten any, so I wonder if my comments aren't working.)
4. Next Monday, 9-15-08, I will email all the participants with a $5 coupon to my store at ShopJMT, as well as pick the 3 random winners.
That's it. Get creative & have fun with this kit. I know it's got great potential for so many layouts & let's see what you can do with it!
The End...For Now | File Under announcements | 1 Comment |
---
September 6, 2008, 9:34 am
Sorry that I didn't post a tip yesterday – I'll continue with some tips next week. Probably not daily, but as often as they pop into my head, I'll post about them! Today I wanted to share with you some layouts that my readers have posted with my Green: The New Black kit (tomorrow is the big day! It'll be at SBE tomorrow!) Click on any of the images to be directed to a larger image in the gallery: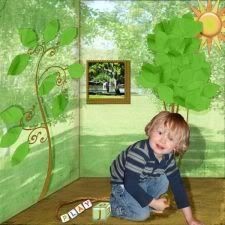 I think they all turned out fabulous, don't you?! Kudos to Jeannie (first 2), Debbie, Aly & Terri for such fab layouts! I'm amazed that most of them turned out to be related to some of my environmental posts! It's great that not only can I make a kit being inspired by the environment, but that you guys can then go & create layouts with the same inspiration.  I think the kit definitely lends itself to that, but as you can see in Terri's layout, there are so many other uses for it, too!
Stay tuned tomorrow when the kit is released, because if you have it already or pick it up this week, I'll give you the chance to win a $10 coupon to my store at SBE. I'll give you all the details about that tomorrow!
The End...For Now | File Under LO, announcements, random babbling | Leave a Comment |
---
August 23, 2008, 8:08 pm
First off, all next week, starting on Monday, I'm going to have some blog freebies which match my Round 3 submission for FPD's Teacher's Pet. It was a mini kit called Strawberry Fields Forever (and, that mini kit will be available as one of the freebies, too.) I'll have 3 different new freebies each up for 2 days at at time and then the original mini kit up for 2 days before all of it goes into the store as a complete kit. Here's a preview of what the final kit will look like, so be sure to stay tuned all this week & up through next Monday so that you can grab the entire kit for free: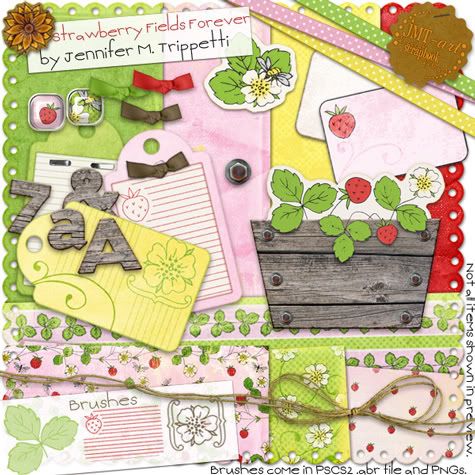 It will be available for sale on September 2nd at ShopJMT and my store at SBB, but, as I said, get it all for free here on my blog in parts over the next week or so.
Next bit of news: I broke my PR for a 5K this weekend. My previous PR (personal record) was 33:06, but today I ran a 32:54 5K. I was SO happy to make it in under 33 minutes! Yay me! I did finish 120th out of about 140 people, but I'm estatic about my time. Of course I came home, pigged out on carbs & then crashed for 3 hours, but that's pretty much what I do after EVERY race.  This makes 6 races for me this year& that alone may just be another personal record. Especially since I've got at least 1 more coming yet in November, and maybe one in October, too. Heck, if I can find a late September one, I'd do it.
And finally, a couple of laytouts to share that I did recently. Girly ones, too. Click the images to see the gallery postings with all the credits: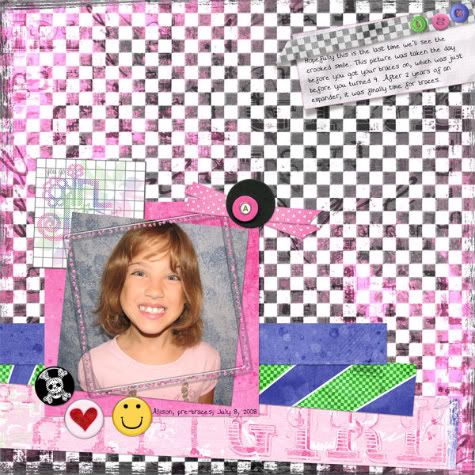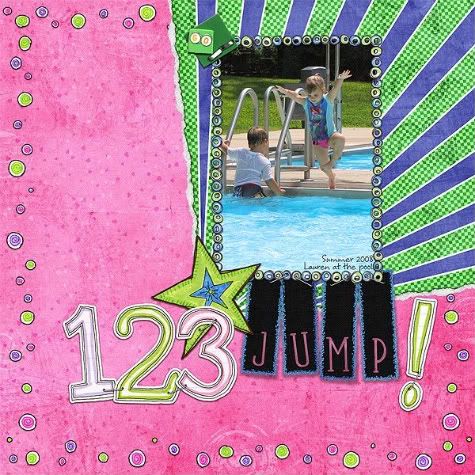 The End...For Now | File Under Jenn Runs, LO, announcements | Leave a Comment |
---
June 10, 2008, 9:37 pm
I've got a little secret and I'm not sure when I'll reveal it. But, here's a hint: you'll be seeing some of my products soon at a top-notch digi-store. Care to take a guess where? I should be set up by the end of this weekend with some products loaded and I'm going to debut there with a brand-spankin' new super fabulous kit. Wanna see a sneak peek? These are some of the elements:

So what do you think? Where will I be? The only hint I'll give is that I'm not leaving SBB, so you'll find exclusive items at each shop. (OK, so I gave 2 hints – it's a top notch store and I'm not leaving SBB.) Take a guess and I may send you something special!
Edited to add another hint: You'll know if you've got the right answer because my name now appears in the designers list at said store! Happy Hunting!
The End...For Now | File Under announcements | Leave a Comment |
---
March 2, 2008, 9:14 am
In honor of the grand opening of ShopJMT, I'm hosting a LO challenge: Scrap a LO about a Comfort Zone.
Comfort Zone: an environment or situation in which a person feels secure or at ease; also figuratively, an established lifestyle in which a person feels comfortable as long as there is no drastic change.
What makes you comfortable? Colors, fabrics, a certain person? Maybe someone else's comfort zone – your child's – do they suck their thumb? Have a special blanket or toy? My featured kit, Comfort Zone was created out of my own designing comfort zone. I like dirty but pretty, grungy but bright. Check it out here with details on how to get it free with any $5 purchase.
Here are the rules:
The LO must consist mostly of products by me, Jennifer M. Trippetti (I sell at Scrapbook-Bytes, Scrapdish and now my own store, ShopJMT). Anything I've created can be used. You can use other designers items, but it most consist mostly of my products. (I've got a 25% off sale running this week & free kit with $5 purchase at ShopJMT.)
Post your LO in any public gallery and then link me to your LO (post a comment here on my blog or email me – jmt "at" jmt-art "dot" com.)
You have until Sunday, March 9th to post a LO.
One entry per person please!
A random winner will get a $25 gift certificate to ShopJMT and other random winners will get smaller vouchers ($5, $10). The number of final prizes will depend on the number of entries. Winner will be announced on my blog, as well as at MSA and DST.
Everyone who submits a LO will receive a free sampler of my newest kit coming out next week.
Here is the LO I scrapped about my DD's Comfort Zone – her feet.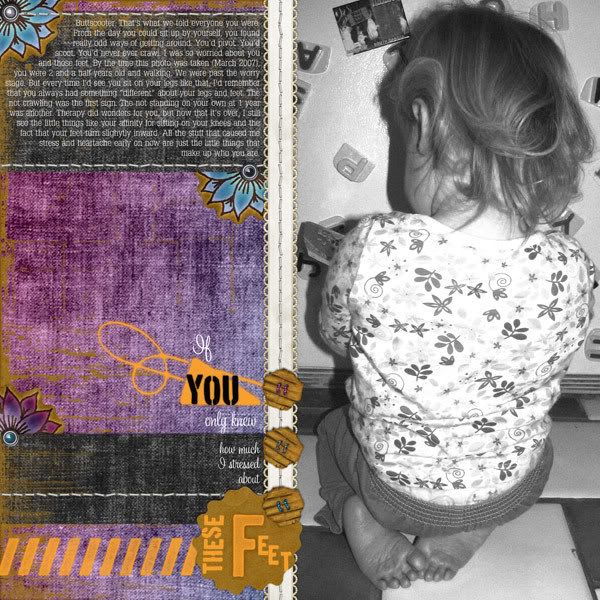 Let's see your Comfort Zone! Happy Scrapping!
The End...For Now | File Under announcements | Leave a Comment |
---
February 28, 2008, 9:52 pm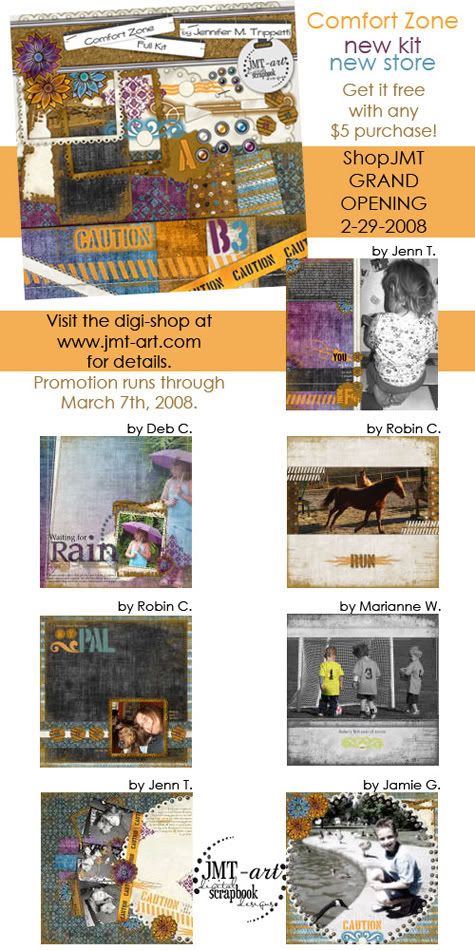 Yes, it's true, ShopJMT is NOW OPEN for business! Get Comfort Zone for FREE with any $5 purchase by using the coupon code Leap_Year at checkout. (Be sure to have at least $5 worth of merchandise in your cart, add Comfort Zone and then enter the coupon code.) Don't forget to check out my $1 specials which will only be up until Sunday, March 2nd! And, if none of those entice you, then how about 25% off storewide? The 25% off sale runs for 1 week through Friday, March 7th.
Have a happy Friday everyone!
The End...For Now | File Under announcements | 1 Comment |
---
January 30, 2008, 4:46 pm
Today I hit a milestone – I made it 50 miles running in January. And, how cool is this:
That's the data that I get from my Nike+ system that works with my iPod to track my runs. (Goes to show you how bad my run was today! Up and down, up & down. Those hills aren't incline – it's my speed dropping throughout the 5 miles. I am having trouble getting the thing perfectly calibrated because my treadmill said I did 5 miles & the Nike+ system had me going a little faster, to complete 5.25 miles. Overall, I'm happy with the system because it'll give me a better idea of how much I run when(if) I run outside. I'm doing a 5-miler in a few weeks, so that'll really give it a test of the calibration, too.
Moving on to business…have you seen this:
Keep your eye on my site, because soon I'll be opening up my own personal digi-store! I'm excited to be getting my store ready and it takes a lot to get it all prettied up and loaded with products. Not to mention that I've got some new stuff that I want to debut when the shop opens! I'll have a great new kit to give away with any $5 purchase, so you won't want to miss the opening! I'll post a preview and some sneak peeks of some new items in the coming weeks before the grand opening. And, I can't take all the credit for the store myself. Yes, it's my own personal store, yes it's all my stuff, but Grace Bennett has been wonderful in getting it set up for me. She's one smart gal when it comes to web design!
Gosh, what else do I have to say? I really want to get back to blogging and man, have missed it so much! Oh yes, new product announcement & then on to some kid stuff. I've got a paper pack plus extras up at SBB right now, just in time for Valentine's Day: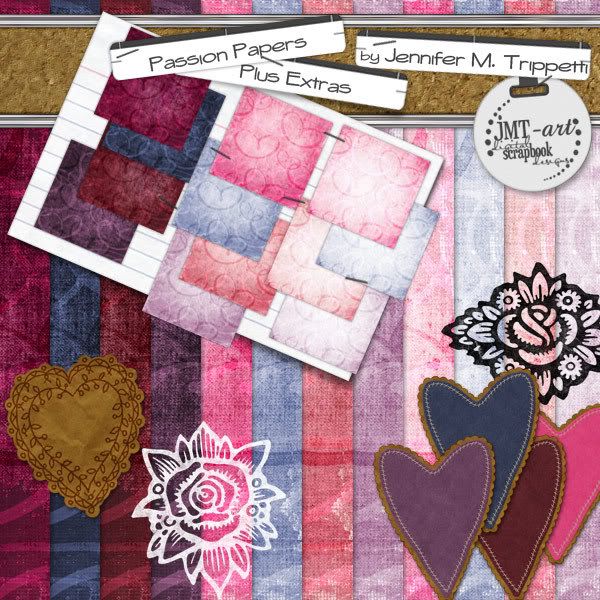 This paper pack consists of 3 different papers in 4 colors. The 3 different papers are all different hues – there's a set of deeply colored papers in pink, blue, red and purple, a set of medium, softly colored papers in pink, blue, red and purple and a set of slightly colored papers (mostly white) in pink, blue, red and purple. In addition, I've included 4 suede hearts, a doodled paper bag heart and 2 rose floral stamps which include black and white PNGs plus an .abr brush set created in PSCS2. Purchase this set at SBB for $3.00.
Here's a close up so you can see things a little better: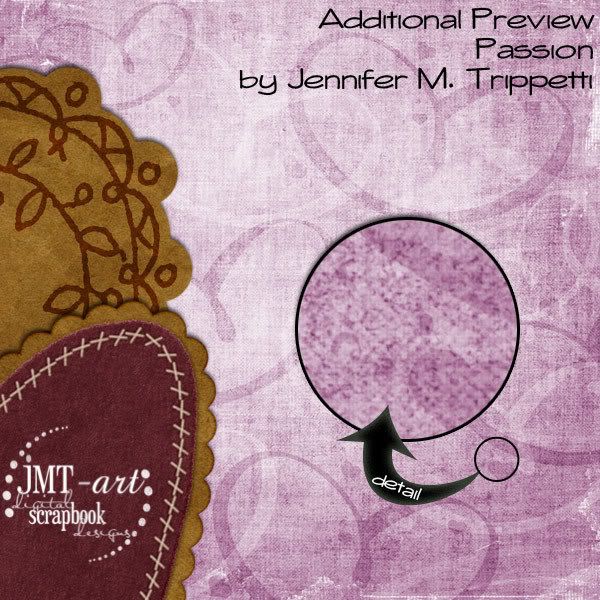 Sorry for the squishy previews – I didn't have smaller ones available & had to squish these down here. Click on either of them to see them better at my SBB store.
Kid news: Just a funny from my son, Ty, who's 5 and in Kindergarten. I was asking him to bring me his backpack so I could check it for papers and stuff and he gets a weird look on his face as he brings it to me. I open it up & there's a paper in there – a drawing by someone else. At the top, written in Kindergarten writing is "Angelina." Knowing that the kids get embarrassed at the mention of anyone of the opposite sex, I just kind of blew it off and said, "Oh, what a nice drawing, does that say, 'Angelina'? Did Angelina draw this?" He gets all shy and says, "Yes." I then come to find out that Angelina isn't even in his class, she's in the other class, but rides the bus home with him. So it seems there's s little thing going on there, by the way he was acting. LOL! My son, the ladies man at age 5. He's so cute and I think he knows it! LOL!
Well, I'm off for now. We are getting a new TV today & it's due to be delivered this afternoon so I'd better make sure the floor is clear of toys or else the delivery man won't be able to get it in the house. And since I just spilled coffee on my shirt, I'd better go change & then do some laundry. Have a happy day!
The End...For Now | File Under Jenn Runs, announcements, new products | Leave a Comment |
---
keep looking »