March 5, 2010, 2:47 pm
I was searching online for information about whether you could search your Facebook statuses (still haven't found out if you can) and came across a really interesting blog post by Rob Banagale called 5 Creative Ways to Hack Your Facebook Profile Photo. Now, I wouldn't really call these "hacking" because you're not doing anything wrong and to me, hacking implies malice. He's got some cool tips on that blog post and I decided to play around with a photo and came up with this:
You can click the image to see it a little bigger. Or, if you are on my friends list on Facebook, check it out for yourself on my profile.
Now, I'm not normally a whimsy/fantasy type of scrapper,  but I like how my profile pic turned out! When I read Rob's blogpost, I had that photo in mind. It's one from 2006 of Lauren on a swing and I thought it'd be perfect for this "hack." The chain link on the swing didn't extract very well so I had to use a graphic for it and then decided to add the cute critters all around. (Those critters are actually a NEW PRODUCT of mine. Yes, I said new product! I have not created something brand new for sale in a long time. They're not available just yet, but keep an eye on my iScrapbook store and they'll be there within a week.) Here is a preview of them: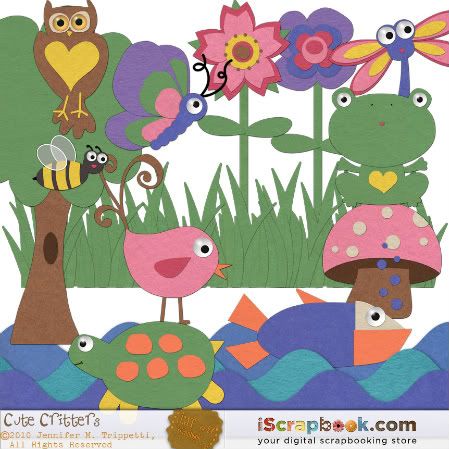 There are 16 items all made out of construction paper. How cute are they? Just to see if there is anyone reading my blog, if you want them for free, give me a little comment and they're yours. Limited time offer!
The End...For Now | File Under LO, jackpot, new products | 5 Comments |
---