February 25, 2010, 6:24 pm
Filed Under random babbling | Leave a Comment |
I went skiing with the kids for the first time this winter last weekend. I'm not much of a skier, but my brother is and he took Allison 2 years ago and I thought it was time for Ty to give it a try. Me and Ty rented skis for the weekend and Allison got them for free (more about that later), so I had to get as much use out of them as possible, because, man, skiing is expensive!
So on Saturday, Ty & I got out early and hit Spring Mountain, which is only about 20 minutes from us. Ty has never been on skis and, well, let's face it, he's not all that coordinated (he still has trouble skipping), so I thought by taking him alone on small hills on Saturday that he'd be more prepared for Sunday when we all went. Spring Mountain is really small – the highest peak is only about 500 feet and there are only a few trails. They have this area called the Mole Hill which makes most Bunny Hills look huge. You can pay to just use the Mole Hill and it's half the cost of a regular lift ticket. So I decided to just do that with him. The Mole Hill has this Magic Carpet lift which is really very cool.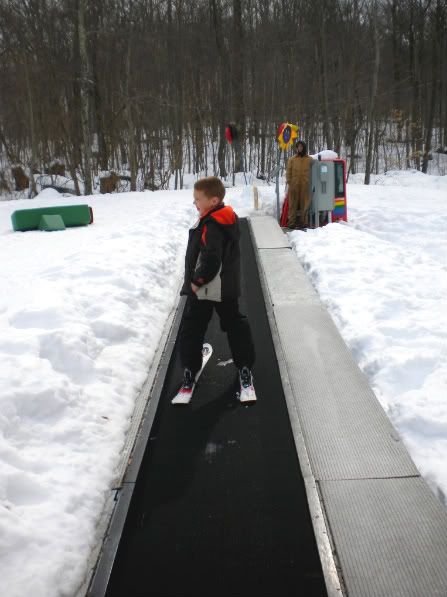 That was the nicest part of the hill. It was very convenient and Ty got the hang of it really fast. I was really impressed with how well Ty did on the small hill and thought he'd be great for Sunday because he seemed to be catching on really quickly. Here he is going down the hill, leaning forward, hands on knees and trying the "pizza" wedge.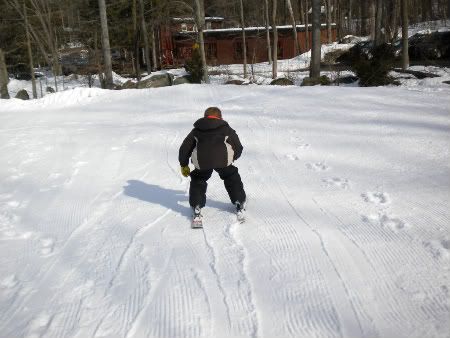 Do you see how unbelievably small that hill is? The nice thing, though, was that we got there first & had the hill to ourselves for about an hour. It was freshly raked, so conditions were perfect. It was also pretty warm – mid-30s.
After about an hour or two we took a break while a class got started and we had some lunch. Then we hit the slope again and Ty was doing really well. Most of the time he was knocking down this sun guy (purposely), but sometimes he'd ski right through it. (It's hard to tell, but this is an action shot. It's while he was skiing through the tower.)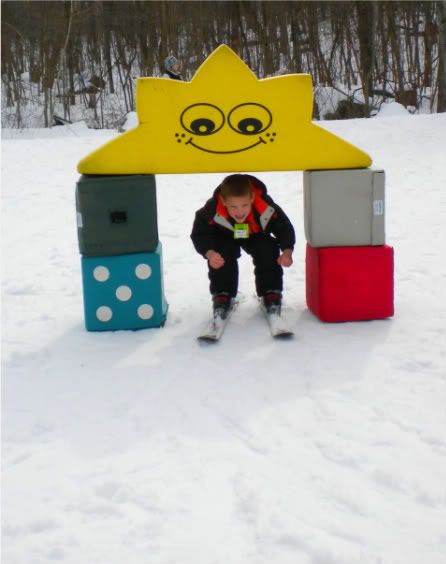 I just realized that all of these pictures show Ty without a helmet. I swear he was wearing one for most of the day! There were a few times I let him take it off because he was so warm and the hill was so small, but I was adamant that we get a helmet and he wear it. (Did I mention that he's not very coordinated?)
On Sunday we headed out early (up at 6 and out by 6:30!) to Blue Mountain. They've got so many more hills and claim to have the highest vertical in PA at 1082 feet. Allison is a 5th grader and PA has this great deal where you pay $15 for processing and get free skiing all year. She gets one combo package (skis, lesson & lift ticket) and then 3 tickets to all 23 participating resorts, with the purchase of one adult ticket. It's a great deal and offered by SkiPA.com. I wish I would have signed her up for this last year (it's for 4th and 5th graders) or earlier this year, because we'd have used it more!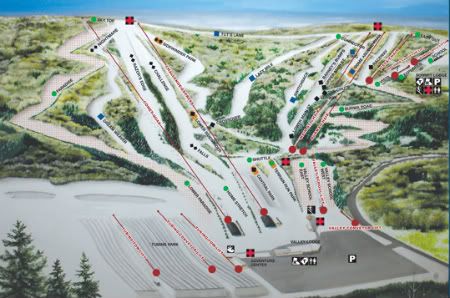 We started out the day with the kids in a beginner lesson. Allison's been skiing before, but it had been 2 years & I felt she needed a first time lesson. So while they were in the lesson, Chuck took me down one of the green (easiest) hills. We skied all the way down and I was very cautious. It's been a long time since I've been on skis! But, I got the hang of it and had some fun. Back up the lift and we checked on the kids. Ty was crying and complaining and I knew it was all downhill (pun intended) from there.
After the lesson, which Tyler refused to learn anything at, Chuck took Allison on the slopes by himself so they could get some good skiing in. Meanwhile, I stayed with Ty on the beginner bunny hill. They did have a tow rope, which was nice and Ty did well on that.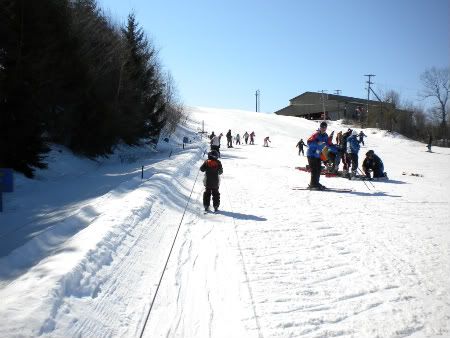 I think my Spring Mountain trip with him backfired, though, because he insisted that he knew everything he needed to know about skiing (typical man, right?) and refused to listen to me. So, while Spring Mountain was easy for him, even the bunny hill was a challenge for him. It was much more crowded and steeper. He seemed to forget how to wedge completely and toppled over at the bottom each and every time. Then he'd complain that his ankle got twisted or he hit his head or his hands were cold. He was so full of drama that I couldn't take it. We took a long break for lunch, met up with Chuck & Ally and even had a visit with the giant Peep. (Just Born, the company that makes Peeps (and Mike N Ikes) is a local company and they were having a fundraiser for Habitat for Humanity. Who am I to refuse to help Habitat, even if it meant I had to buy some Mike N Ikes?
After lunch, it was back on the slopes. Chuck & Ally took off again on their own and me & Ty decided to hit the lower end bunny hill.The lower hills have a lift and everything, so I thought Ty would like that. He was looking forward to riding a real lift and doing a bigger hill.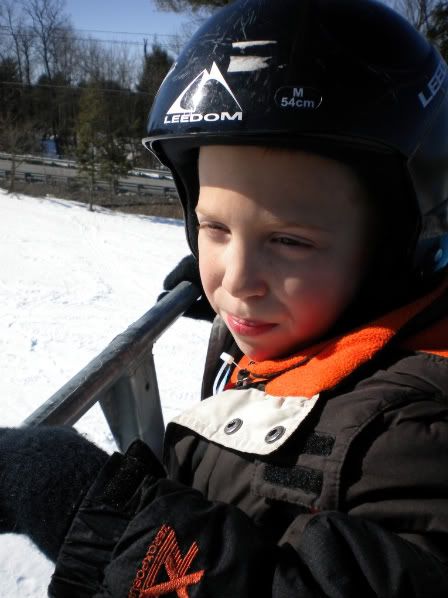 At this point, I'm all outta pictures. I was wiped out after doing the lift with Ty. He really tested my patience on these hills. They were way too steep for him and he was way too tired. I had him hanging onto my poles as I winded us down the mountain…more than once. If I let him go as he wanted me to, he'd go way too fast and crash. One time he even knocked me down (the only time I fell, thank you very much). So after 2 trips on the lift and down the mountain, we did the smaller Magic Carpet bunny hill they have and then called it a day. Chuck & Ally ended up staying even later and had a really good day. (With the exception of her almost falling OFF of a ski lift. Oi vey. She got on and slipped right off about 5 feet off the ground. Luckily Chuck & the guy next to her grabbed her before she slipped completely off.
Needless to say, since I wasn't with Allison most of the day, I don't have any photos of her. But, Blue had a photographer onsite snapping pictures that we could buy. I'm still debating if I want to purchase any, but here are a few small thumbs of the photos:
And my favorite action shot:
Yeah, so the quality on those is bad, but they are screen shots from the website. I just can't fathom putting out $20 a shot for the ski photos. I might get one that shows the 2 of them to frame, but after our Disney trip where we paid $150 for a CD of photos and Allison's most recent gymnastics meet where I paid $100 for photos, I can't afford much more.
One final shot from me to prove I was actually out there on the slopes: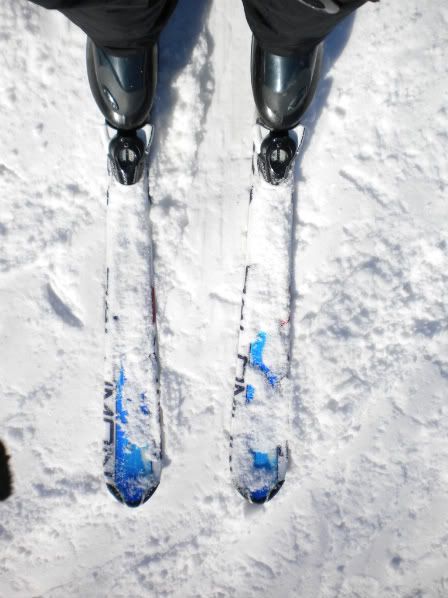 That's about all I got of me on the slopes.
Comments