February 12, 2010, 2:14 pm
Filed Under random babbling | Leave a Comment |
I love shoes. All kinds. I'm not much of a high heel type person. OK, not at all, really, so it's not like I go for $200 or expensive pumps or things that are totally impractical. I love a good rugged shoe. Like these: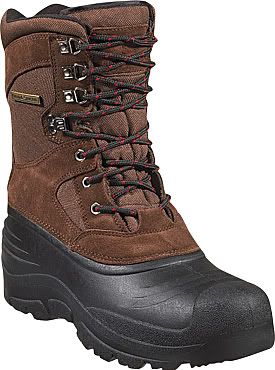 The Field & Stream Men's Buck Hunter 1000 in size 8. Yes, they are a men's shoe. But they are what fits me best. I was in need of a good winter boot. I have a cheap pair I got at Target. They are women's and just too tight in the toe. I have pretty wide feet and big ones, too. I wear a size 9-9.5, sometimes even a 10 (thanks to fallen arches from pregnancy). I can't wear most women's shoes like pumps or even sandals because my feet are just too wide. My favorite shoes are my Born Post clogs

and I wear them almost every day. (I just realized that Zappos doesn't have them anymore. Oh no! What will I do when I need to replace them? I've had them for a while now & wear them a lot – they're very hardy, but I know they won't last forever!)
So anyway – back to my boots. I needed a good pair for one because we have had about 30 inches of snow in the past week and more is due next week. But more importantly, because I'm going on a Pilgrimage in Valley Forge National Park with my son, Tyler for scouts tomorrow. The pilgrimage is held annually and it has been going on since 1912. It's the longest running continuous scouting event and I'm pretty excited to be going. It's going to be COLD and wet and snowy, but I'm up for it. I just hope Tyler can hang long enough to enjoy it! The scouts get to learn about the Revolutionary War and even get to shoulder a rifle…which is going to be difficult for me. I'm so not into guns and war and stuff, but since this is history, I think I can allow it.
And then to top off our winter fun, next weekend I'm taking the kids skiing with my brother. I'm not much of a skier, but I have skied a few times before. My brother Chuck skis a lot, Allison has gone once & Tyler never. So it'll be interesting. I'm not taking Lauren, though. It'll be hard enough with me & the older 2. But it'll be fun and if it goes well, maybe we'll get another day or two of skiing in before the end of the winter.
Wish us luck tomorrow on our Pilgrimage. I know my new boots will keep me warm!
Comments