July 29, 2008, 6:07 pm
WANT THIS FOR FREE? WELL GO HERE & GET IT!
Funky Playground Designs is having a little apprentice program & this was my submission for the first assignment, which was to create a "trendy" mini kit. My take on "trendy" is fun, bright colors & really cool shapes. Retro seems to be really in these days, too, so I had a retro theme in mind when I came up with the color scheme and patterns. As far as trendy elements, I see a lot of acrylic/epoxy and buttons (flair) seem to be really popular, too, so you'll see some of that in here. You have to get the FPD Newsletter in order to get the password to unzip, though, so go get on the list now!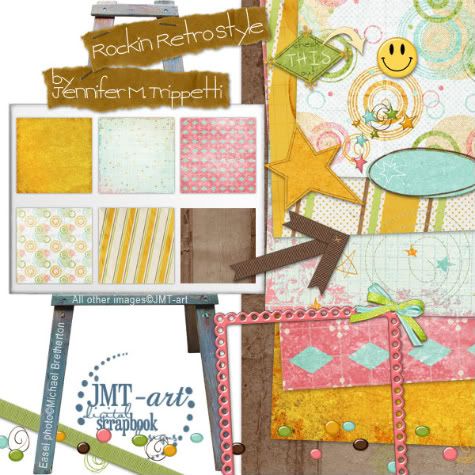 The End...For Now | File Under jackpot, new products | 1 Comment |
---
July 16, 2008, 11:03 pm
Ugh. What a horrible 5K I did tonight. I didn't even look closely at the clock when I finished, but it was around 36:30. I even walked some of it. It was hot, humid & hilly. Three things you don't want for a race (or heck, anytime). Plus, I haven't trained for this. I kind of took a break from hard training after doing the 10K and I paid for it. Plus, I ate dinner just before I left. Major mistake. A full belly doesn't go well for an evening run. And, besides, the amazing food they had post-race, I just couldn't enjoy because I was full from dinner. A local tavern sponsored the race and they had wings, hoagies, hot dogs, soft pretzels…all of my favorites! What was I thinking eating a full dinner before it?
Well, one thing for certain – I have to get back to training and training hard. I've gained 20 pounds since April – mostly because of the nasty prednisone I was on for hives for 5 straight weeks. And, man, I just can't get that weight off. Plus, I'm still on the doxy for Lyme Disease (2nd round) and I get sick if I don't eat enough before I take it. Just another week or 2 of this round of Doxy and then I'm done. I see the specialist the end of the month & we'll decide what, if anything, I have to do next.
**Official race time now posted: 7-16-08 Phil's Tavern 5K – 36:31
On a business note, I don't think I ever posted about my kit, Ocean Life. It's available at SBB and ShopJMT. At ShopJMT, you can get a special deal on the entire kit PLUS the brag book. At SBB, you can get everything individually or the full kit by itself.
Click the image for the kit PLUS brag book, or individually, here are the links for SBB: Solid Papers | Patterned Papers | Elements | Full Kit | Brag Book.
The End...For Now | File Under Jenn Runs, new products | 1 Comment |
---
July 4, 2008, 7:40 pm
Today's 10K time: 1:11:10. It was the Washington Crossing Revolutionary Race and I haven't run this one for quite a few years. I've actually never run the 10K, only the 5K, but it's such a nice course, I want to do it more often. It's kind of a hike to get there – I was up at 5:15 to get ready and the race starts early – the 10K at 8:30, but being in July, the weather can get quite steamy, so I guess that's why the do it early. And already I'm looking at my next race coming up in a week and a half. It's a 5K on Wed. 7-16. What am I thinking??!
I'm not sure  I've actually blogged each & every race this year, so I want to keep track of it here:
2-16-08 Ambler Frostbite 5-miler – 53:12
5-10-08 Hatfield I Can Run 10K – 1:07:54
6-25-08 Tex Mex Race for Open Space 5K  – Chip Time: 33:17, Gun Time 34:38
7-4-08 Washington Crossing Revolutionary Run 10K – 1:11:10
The End...For Now | File Under Jenn Runs | 1 Comment |
---
July 1, 2008, 4:09 pm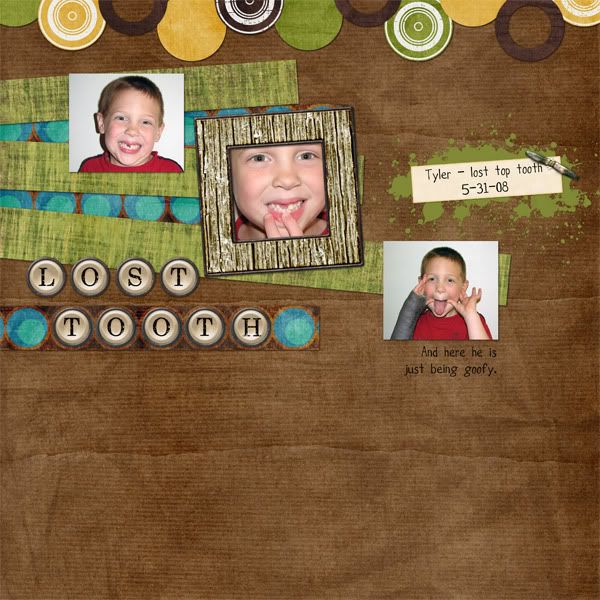 Ty lost his first "big" tooth – one of the top ones & I thought the pics called for scrapping. It's amazing how he already lost 2 of his bottom teeth, yet everyone notices now that he lost the top one. (I should have journaled that, huh? Hmm, I see a revision coming to this LO!)
Credits: Everything from my Grab Bag! at SBE
Boyish Charm elements & papers
She's Krafty background paper
She's Krafty type key alphas
Urban Labels
Font is Hockey is Life
Go pick the bag up now for just $2.95! It'll only be on sale until Saturday and then each product will go into my store separately!
The End...For Now | File Under LO | 1 Comment |
---