March 29, 2008, 9:26 pm
What am I talking about, huh? Dogs – as in the animal? Or as in slang for a new pair of sneakers? Well, since I just posted a month and a half ago about our new dog, Kip, I couldn't possibly mean a new dog-animal, could I? Or could I? Well, let's just say I've got 3 new dogs to show you. The first two dogs I speak of are indeed a new pair of running sneakers. Behold The Nike Air Equalon 2: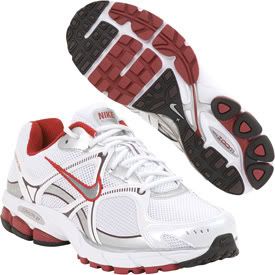 Sharp, eh? And they're red. That's a change for me, because my sneaks are usually pretty low key. I've been all about the Asics Gel Foundations for years now. I think I've had 4 pairs in the past 2 years? But since I got an iPod and the Nike+ running system, I wanted to try out a pair of Nike+ enabled shoes. My BIL owns a running shoe store, Bucks County Running Company & he said these are some of the most stable of the Nike+ enabled shoes for women. And stability is what I need. They're also very cushy and comfy. We'll see if they hold up to my massive frame running a slick 5-6mph in them;) I took them out for a walk today & they felt good, so let's hope next week's treadmill runs are successful. I did 5 miles on Friday (in an hour) and my shins are a little achey. It was time I got new shoes, so these come at the perfect time. I'm also training for my first 10K ever in May, so it'll be good to have a new pair of dogs to get started with now.
And now for the OTHER kind of dog. The animal kind. Yes, I did indeed get a new dog, too. Kip, as much as I loved him and he loved me, he just wasn't right for our family. Small breed, kids…just not the right mix. He was snapping at them, agressive and territorial at only 5 months of age. I tried all I could & even considered a behavior specialist, but in the end, after he bit & drew blood on 2 of my kids & held each & every one of them at bay in their own house, I had to give him up. The good news is that only 4 days after I brought him in, he was adopted to someone without kids. Phew. And then a few days later, we got Sabrina: (Oh, and please excuse the photo quality – it's from my cell phone – gotta download the regular camera pictures & then I'll post more!)
I know, what kind of irresponsible person am I? I get a dog & give it up in a month and then a week later, get a new dog. Crazy, huh? But, let me explain. Sabrina is a rescue dog. Her Mom was found tied to a stake with all her puppies and whoever owned them had neglected them. We were in the right place at the right time. Just when we gave Kip up, these adorable mutt pups were available. So I made contact & we got her in a week. Mom was a Basset Hound/Beagle mix and they don't know who the Dad was. We're thinking lab, because of her coloring & eyes. Her eyes are gorgeous – very light & greenish. She has Basset legs & paws for sure – short & squat. I think her head is Beaglish, but her coloring is definitely not standard Beagle or Basset (and yes, there's a name for Basset/Beagle mixes. Wait for it…Bagle. But I refuse to call her that. She's a mutt & that's all there is to it). It'll be interesting to see how big she gets & what she turns into. So far she's been amazing. At 8 weeks, she was housetrained by the foster Dad. We had some issues with the crate & separation anxiety, but she's over it now. The biggest problem now is that she doesn't like to walk on the leash. I think she's a very submissive dog (but not like peeing submissive or like turn over immediately & play dead submissive), so she likes to be behind me. So walking on a leash is not her thing. I kind of force her to do it & after about 5 minutes, she's good. I think she'll get better. I've already taught her "sit", "down" and "crate". We're working on "out" and "leave it". She's very playful with the kids, she does like to nip at them, so we have to work on that, but she's in no way aggressive towards them. It's all playfulness. She's also really good with other dogs. I think she'll be perfect for us & am so glad we found her!
The End...For Now | File Under Jenn Runs, random babbling | 2 Comments |
---
March 26, 2008, 9:11 pm

Such fun – just in time for your Easter & springtime pictures! Also great colors for little boys! You can get Suddenly I See for 25% off through the end of March – just $3.74! Get it at ShopJMT or my store at SBB.
Suddenly I See a fabulous kit for scrapping this spring! In this kit you get 8 fun, clean, crisp papers (4 solids and 4 patterned) and a whole bunch of cool doodles in 3 different varieties. There are a total of 9 different elements and each comes in a plain black doodle, a colored doodle and a transparent acrylic sticker format. The doodles include a bird, a 12×12 page border, a cloud, a frame, a triple mod frame, a stripe/dot border, a sun, a tree and a piece of word art. In addition, there is a transparent acrylic sticker alpha set which includes capital letters, numbers and ()!,.-?_+ .
Everything has been created at 300ppi and papers are 12×12. No drop shadows. There is a text file with basic instructions to help you apply drop shadows to clear elements. Special thanks to Atomic Cupcake.
Here are some of the details:

And a LO I created:

If you like the LO, you can download the quickpage of the layout for free. Right click them image below and then "Save Target As…" to your computer (the image is direct linked to the 12×12 PNG, so if you choose to view it, it'll be huge, but you can do that, too & then right click and save it from there):
Enjoy & Happy Spring!
The End...For Now | File Under jackpot, new products | 2 Comments |
---
March 18, 2008, 9:05 pm
Check these babies out! I wanted to make some painted papers in all kinds of cool colors for spring and these turned out exactly as I planned. Textured like oil paint on paper, you get 6 painted papers (all slightly different – this is not a 6-pack of papers all recolored). And then I've added 10 glass orb swooshes – something unique and created 100% by me! This set is available at ShopJMT and also my store at SBB for $3.00.
Enjoy!
The End...For Now | File Under new products | 2 Comments |
---
March 2, 2008, 9:14 am
In honor of the grand opening of ShopJMT, I'm hosting a LO challenge: Scrap a LO about a Comfort Zone.
Comfort Zone: an environment or situation in which a person feels secure or at ease; also figuratively, an established lifestyle in which a person feels comfortable as long as there is no drastic change.
What makes you comfortable? Colors, fabrics, a certain person? Maybe someone else's comfort zone – your child's – do they suck their thumb? Have a special blanket or toy? My featured kit, Comfort Zone was created out of my own designing comfort zone. I like dirty but pretty, grungy but bright. Check it out here with details on how to get it free with any $5 purchase.
Here are the rules:
The LO must consist mostly of products by me, Jennifer M. Trippetti (I sell at Scrapbook-Bytes, Scrapdish and now my own store, ShopJMT). Anything I've created can be used. You can use other designers items, but it most consist mostly of my products. (I've got a 25% off sale running this week & free kit with $5 purchase at ShopJMT.)
Post your LO in any public gallery and then link me to your LO (post a comment here on my blog or email me – jmt "at" jmt-art "dot" com.)
You have until Sunday, March 9th to post a LO.
One entry per person please!
A random winner will get a $25 gift certificate to ShopJMT and other random winners will get smaller vouchers ($5, $10). The number of final prizes will depend on the number of entries. Winner will be announced on my blog, as well as at MSA and DST.
Everyone who submits a LO will receive a free sampler of my newest kit coming out next week.
Here is the LO I scrapped about my DD's Comfort Zone – her feet.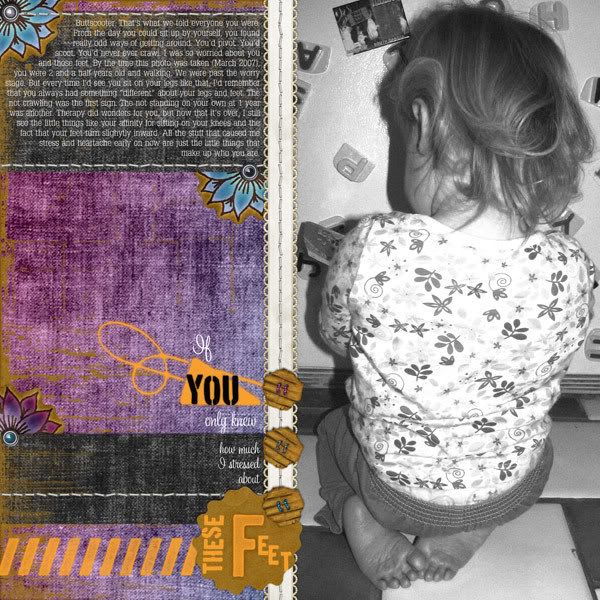 Let's see your Comfort Zone! Happy Scrapping!
The End...For Now | File Under announcements | Leave a Comment |
---