February 28, 2008, 9:52 pm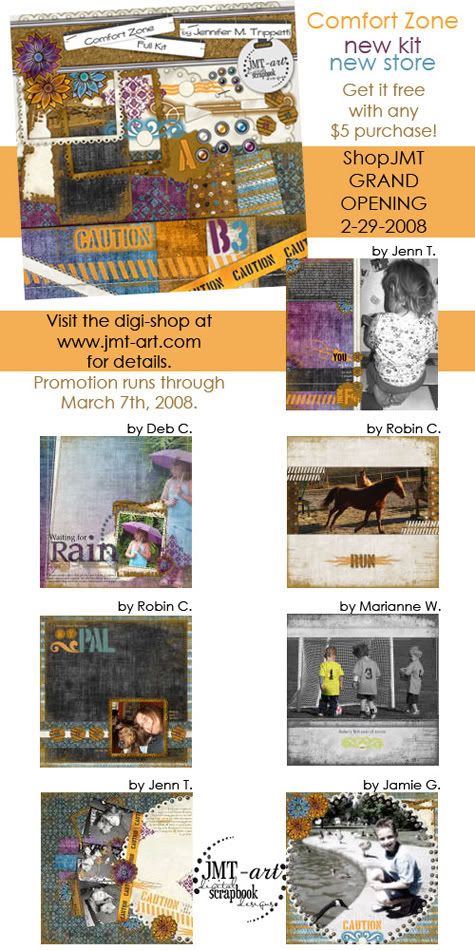 Yes, it's true, ShopJMT is NOW OPEN for business! Get Comfort Zone for FREE with any $5 purchase by using the coupon code Leap_Year at checkout. (Be sure to have at least $5 worth of merchandise in your cart, add Comfort Zone and then enter the coupon code.) Don't forget to check out my $1 specials which will only be up until Sunday, March 2nd! And, if none of those entice you, then how about 25% off storewide? The 25% off sale runs for 1 week through Friday, March 7th.
Have a happy Friday everyone!
The End...For Now | File Under announcements | 1 Comment |
---
February 27, 2008, 11:21 pm
I posted a couple of LOs earlier this week and I wanted to post a few more LOs as well:
Jamie did this cute LO:
And here's one that I did: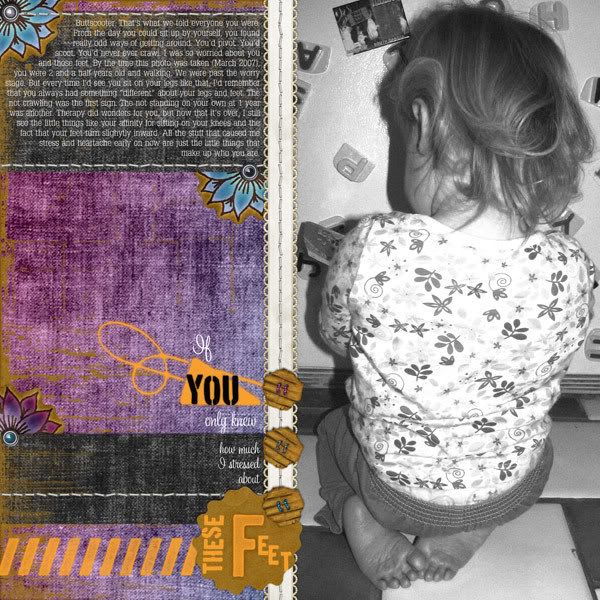 And one more here by Marianne. She desaturated most everything to really bring your eye in to Aiden's jersey! How cute is he?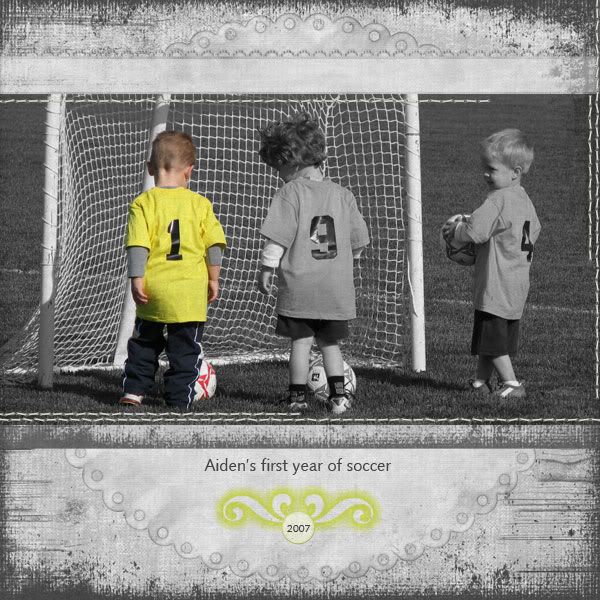 I can't wait until Friday when my shop opens, because I've got 3 new kits in addition to Comfort Zone that'll be available. So be sure to check back on Friday for the grand opening!
The End...For Now | File Under LO | Leave a Comment |
---
February 26, 2008, 9:09 pm
Can you see this? I just realized I'm having issues with IE & my blog is all messed up. So for IE users, I apologize. If you're using IE & can see this, can you post a comment?
**Edited because I think I fixed it! If anyone sees anything that looks really "off," let me know!**
The End...For Now | File Under random babbling | 2 Comments |
---
February 25, 2008, 9:56 pm
This is our new puppy, Master Kippington III and he's part Maltese, part Norwegian Spitz. We think he's actually Norwegian Lundehund. Looks very much like that, only more black and so many of the characteristics are the same. So DH finally said, "Yes" to a dog. I've been wanting one since last summer, have looked at a bunch, researched rescues, visited the SPCA, pet shops, everything. When we saw this one, Ty just fell in love with him. Which is very unlike him because neither him nor Lauren are all too fond of dogs. This guy is a small one – he's only 8 pounds and the vet doesn't expect him to be much more than 12 pounds as an adult. He's about 4.5 months old and so far, he's pretty good. He does like to chew, but no damage has been done so far (knocking on wood). He will grab just about anything and take it off to try to chew it if we don't watch him. But the housetraining is going remarkably well and he sleeps all night. He's very much a lap dog and will jump right up into your lap at any chance he can get. I'm trying to teach him to jump right up into my arms when I put them down together by my waist. He's getting close!
What's new with JMT-art, you ask? Well, check out what's coming to my brand new shop opening up on Leap Year Day, Feb. 29th:
LO by Robin: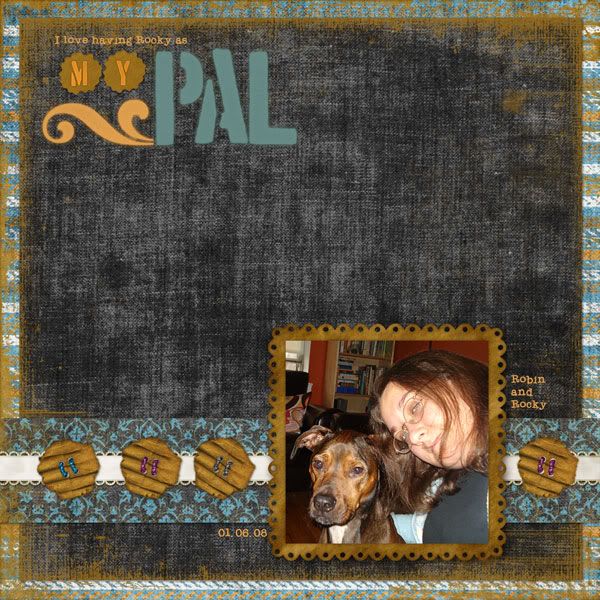 LO by Deb: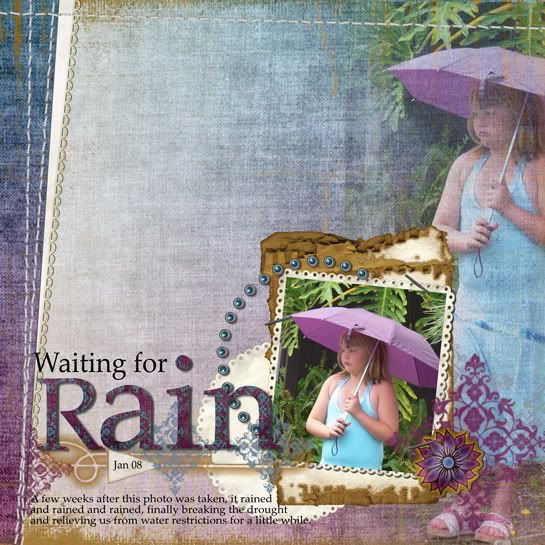 Those are 2 LOs featuring a brand new, exclusive to JMT-art kit called Comfort Zone. You'll be able to get it FREE with any $5 purchase when my shop opens, so stay tuned for more info on that! I'm going to have a store-wide sale, $1 specials, an exclusive free kit with purchase, and BRAND NEW PRODUCTS, too! I'm so excited & I think I'm already to go live, so just wait until Friday!
The End...For Now | File Under new products, random babbling | 3 Comments |
---
February 13, 2008, 4:42 pm
I wonder if that still applies to a 5-miler. Because, man, I've taken too much time off. Not that I wanted too, it just happened. Check this out:
I do 50 miles in Jan. and can't even make 10 before the middle of the month. Because I'm not going to be running anymore this week & I've missed my run yet again today. I had planned on getting 5 miles in today, but the weather didn't cooperate. 2-hr late arrival, no morning Kindergarten which means even if I wanted to get to the gym, I'd have only just gotten there now, but baby sitting is closed, when school is closed/delayed. Even if it was open, I wouldn't have enough time to get my 5 miles in before they close for lunch. Well, I normally do well when I take a week or so off from running, so let's hope Saturday's race goes well. It's gonna be a cold one, according to the forecast:
That's a high of 30º which means at 9am it'll be in the 20s. The overnight low from Friday is supposed to be *only* 24º which is actually good. Because last year it was in the teens when I left the house for the race & it warmed up to about 20-22 by race time. To have a good solid mid-upper twenties for the race isn't all that bad. (And, yes, I'm trying to psych myself up for this by looking at the bright side.)
So enough racing woes and worries. How about we talk Webkinz? My kids love Webkinz. All three of them – the 8yo had some first and for Christmas they all got some (as did I *snicker*). It's funny because I love to see how they handle their Webkinz accounts & how it relates to real life. Bear with me, because I do have a point here. My 8yo is mostly responsible, but not all the time. When she feels like it, she takes care of the Webkinz and she always manages her Kinz Cash really well, knows what she needs to do if they're sick, hungry, etc. She knows how to get Kinz Cash if she needs it. But she doesn't always have the dedication to take care of them all the time. Some days she just doesn't get online to do everything she's supposed to. My 5yo OTOH, he gets on every day. He spends money every day. He plays the games, gets a job, complains that they're too hard, knows there are certain things he needs to do every day, but often gets caught up in the Arcade playing games & just doesn't get everything done. He also needs me to play stuff for him to get him "4 numbers" so he can buy yet another yard. Or another TV or a fridge because he sold the 3 that I bought him already. He doesn't understand that when he got his Lion and it came with a King's Throne that it was an exclusive item that can't be bought anywhere. So when he sold it, I was devastated, but he didn't seem to mind. Because he did get a good bit of money for it & it enabled him to buy, oh, I don't know, another stove or skateboard. I have to take care of his Webkinz for him a lot because if I didn't, he'd never have any money to even buy food for them. Then there's the 3yo. She just likes Webkinz because they're fun and can't really do much, so her brother & sister have to do most of the work for her. But she can still sit & observe and feel like she's a part of it.
So, do you follow me know? Do you see how closely related that is to real life? The 8yo doesn't need much supervision, but doesn't always get all the necessary stuff done. The 5yo just plays & plays & needs someone to take care of the important stuff. And the 3yo, well, she needs help with just about everything. I find it amazing that their Webkinz Worlds reflect their real lives, LOL! And on that note, I want to leave you with a glimpse into my Webkinz World. This is Blitzen's Dining Room:
I'm most proud of my Goober's Lab Trophy. I've won 2 of those, actually & sent one to my oldest DD. Ty wants me to send him the other one, but I'm afraid he'll turn around & sell it! I have no idea how I won either of them. The first one I actually saw a message "you have won a prize" and when I was finished, I saw it in my dock. The second one I never even saw the message and then there it was. I think my high score on Goober's Lab is a little over 42,000 and I've made close to 300KC on it before. And, yes, I'm a goober myself. I know it. Anyway, so come on, tell me I'm not the only Mom that enjoys a little Webkinz! I know there are plenty of others out there!
The End...For Now | File Under Jenn Runs, random babbling | Leave a Comment |
---
February 8, 2008, 5:09 pm
I can't get that song out of my head. The girls are both home today watching all our Care Bears DVDs and Allison has even pulled out the VCR tapes. (Which Lauren just doesn't understand. She took a DVD and tried to put it in the VCR because she had never seen us use the VCR. Allison has been home sick the past 2 days with a bad cough and a fever. And yesterday she even had the "Hershey Squirts" as my neighbor so affectionately called them. Her fever was 103 this morning. She seems a little better now, but it'll probably spike again this afternoon.
So that all means that I missed the gym again today. Man, I'm batting 1000 lately with the workout misses. Skipped Friday & Monday on my own accord, Wednesday my iPod wasn't working & then today I can't go. I'm going to try to fit a good run in either tonight or tomorrow. I've only got a week before my race & I've got to get at least 1 good 5-mile run in before then! And I want to do some hill repeats, too.
I have, however, taken the past 2 days to do some hard core designing. (For me that means that I got a kit finished, LOL, and I even started on a 2nd one and have thought about a 3rd one.) I'm getting ready for my shop grand opening. And I even got some scrapping done with SMJ's new lil kits.
First is using mostly Playful, as well as Little Dudes: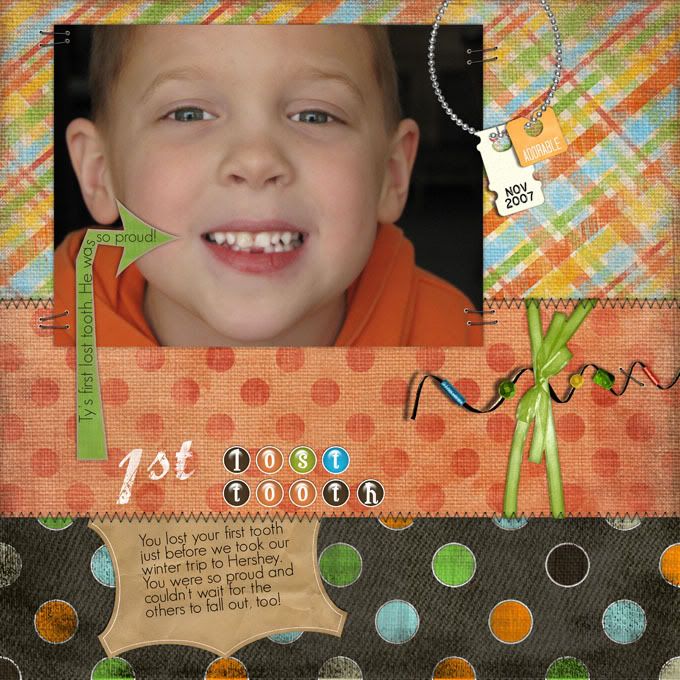 My favorite part of the Playful kit is the wire & bead elements. The colors are also perfect for young boys and it really goes well with Little Dudes!
And the second uses mostly Shabbyful and Cheerful, with some other things thrown in, too: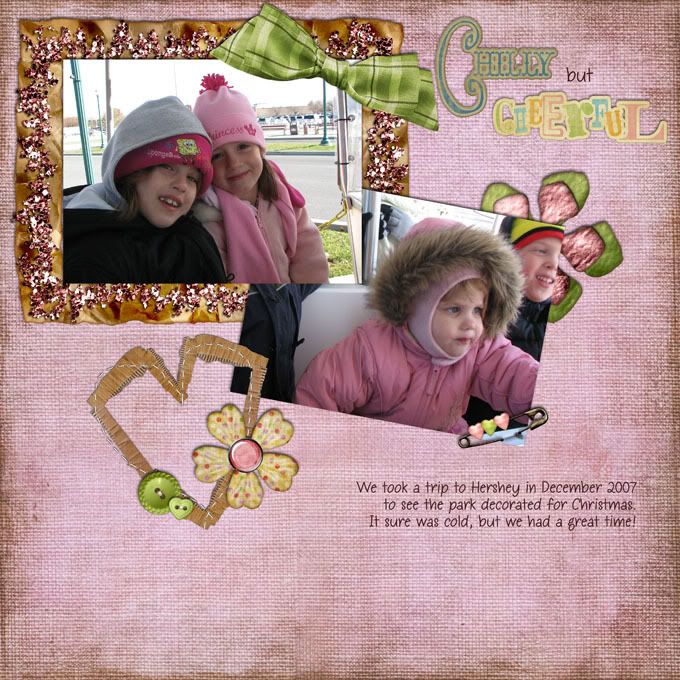 Shabbyful is just such a beautiful kit. My favorite part is the flowers. The one on the left by the heart is from Shabbyful and they are just so perfect!
And now wanna see some previews of the new, exclusive to ShopJMT kits that I'm working on? I'll post previews in the way of some layouts I've completed. First is a featured kit that will be free with purchase when my store opens. It's called Comfort Zone and here are 2 layouts:
This one is a pretty but grungy kit. Maybe one of my grungiest to date, which is why I called it Comfort Zone;) It's the style I prefer to design in and scrap with, even.
And next is a boyish kit named for my son, Tyler. I'm going to have a series of 3 kits named for characteristics of my kids. This one is Tenacious Ty and here is a Valentine's Day cad I did with it:
The heart is actually from my Beaded Glass Embellies at SBB, but everything else is from the kit.
I hope to finish up my kit for my oldest DD, Allison, by this weekend, so maybe next week I can post some LOs with that! Until then, have a great day & Happy Scrapping!
The End...For Now | File Under LO, random babbling | Leave a Comment |
---
February 6, 2008, 4:40 pm
My ipod wasn't working this morning (who knew that in a week it could lose a charge?) so I didn't run as much as I would have liked today. I managed 1.25 miles and then moved on to this piece of equipment:
It's the AMT 100i by Precor. Quite a different machine and quite a different workout! It looks like an ellipitcal, but it's much harder, I think. It really works your muscles in differfent ways & also gives a good cardio workout. I did 25 minutes & managed 2 miles. My strides per minute were slower than I'd have done on an elliptical, but I think I worked harder. And it's cool because if you change your stride slightly, the machine adapts and gives you a different workout. So you can go from stairmaster to elliptical like movements just by changing your stride. I think I might have to hit the gym tomorrow to make up for my lack of running today because I've got to get some more miles in before next Saturday's 5-mile race!
Moving on: Fat Tuesday/Super Tuesday. Anyone celebrate for Mardi Gras yesterday? Did you vote if you were in one of the 21 Super Tuesday states? I lived Fat Tuesday up to it's name by eating lots of junk. Like I needed that. And here in PA it wasn't a voting day, so I didn't vote yet. But I did see some interviews on the Early Show with the candidates & it solidified who I'm going to be voting for.
Since I didn't exercise yesterday and ate like a fiend, I decided to treat myself and get my nails done (LOL). I absolutely LOVE the way Dan did my nails. He's amazing & I've been seeing him for a few weeks now. Check this out: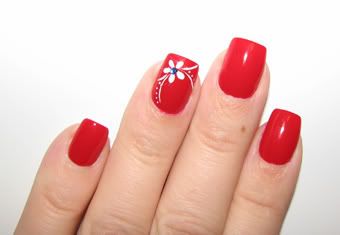 Dan doesn't do the designs, his wife, Nina does & she did an awesome job, too. I love the color (Nina picked it – it's called The Thrill of Brazil by O.P.I.) I'm so bad at picking colors – I normally pick something that's really old-lady-like and end up hating it within a few days. I'd have never picked this color, so I'm glad Nina suggested it. Now let's see if it'll last until Valentine's Day. The polish usually starts to wear off on the edges after about a week.
SMJ: Did you see that Shabby Miss Jenn has 3 new lil kits in her shop? They're so fun & I'm working on a few LOs with them. I hope to get them finished & posted in the next day or so. The new ones are Cheerful, Playful and Shabbyful and they all are fabulous!  Until tomorrow…have a great day & happy scrapping!
The End...For Now | File Under random babbling | Leave a Comment |
---
February 5, 2008, 8:50 pm
Seriously, I feel like the dentist Novacained my brain. Which maybe wouldn't be such a bad thing, huh? Man, dental work. I hate it. Most of my life I had pretty decent teeth. A single filling when I was 13 or so & then nothing for 10+ years. Then in my 20s, I get out of college, get a job and my own insurance and BAM, my teeth go to, well, rot. This year alone I've had a crown and 4 fillings. How sad is that? Especially since before this I had only had a total of 3 fillings! And now I've more than doubled the teeth that are filled. Besides that, I'm getting a mouth guard, because, surprise, surprise, after 3 kids, I'm clenching my teeth. Ugh, the joys of getting older.
In other news, here I went bragging about running50 miles in Jan. Wanna guess how many miles I've done so far in Feb? Yep, none. A big fat zero. On Friday I skipped the gym. And right now I don't even remember why. Then on Monday I forgot my gym bag. I went all the way there (so it's only 6 miles) and realized I didn't have my gym bag. Came home & decided to ditch the gym anyway. Tomorrow, I promise, I'll be back and get 5 miles in.
Oh, did I mention that I'm a guest CT member this month for Shabby Miss Jenn? How incredibly awesome is that? I love her stuff – just love it and purchased my first items from her just last month. I posted a couple of new LOs over on her team blog, too. 2 were from last month & the new ones I'll post here. I love the way they turned out!
This one uses mostly Shabby Snowkisses. Such a great kit for snow!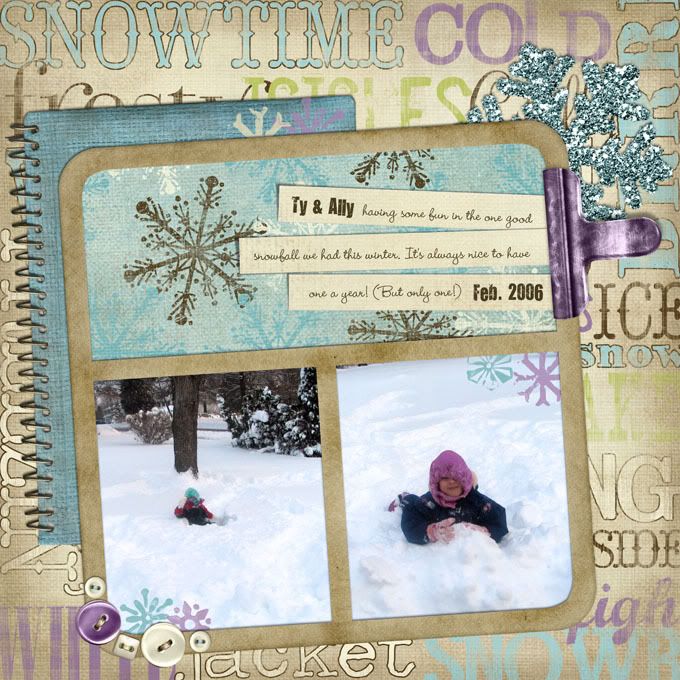 And finally (for now, anyway), this one uses Gimme Some Love: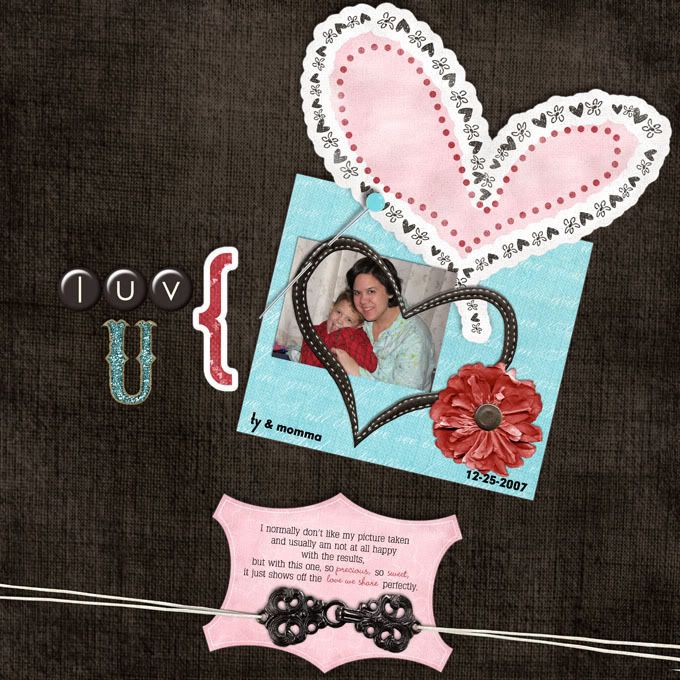 That's it for now! I'm working on 3 new kits for my store opening (tentatively scheduled for Feb. 29th! Leap year day!) Have a great day!
The End...For Now | File Under LO, random babbling | Leave a Comment |
---