January 30, 2008, 4:46 pm
Today I hit a milestone – I made it 50 miles running in January. And, how cool is this:
That's the data that I get from my Nike+ system that works with my iPod to track my runs. (Goes to show you how bad my run was today! Up and down, up & down. Those hills aren't incline – it's my speed dropping throughout the 5 miles. I am having trouble getting the thing perfectly calibrated because my treadmill said I did 5 miles & the Nike+ system had me going a little faster, to complete 5.25 miles. Overall, I'm happy with the system because it'll give me a better idea of how much I run when(if) I run outside. I'm doing a 5-miler in a few weeks, so that'll really give it a test of the calibration, too.
Moving on to business…have you seen this:
Keep your eye on my site, because soon I'll be opening up my own personal digi-store! I'm excited to be getting my store ready and it takes a lot to get it all prettied up and loaded with products. Not to mention that I've got some new stuff that I want to debut when the shop opens! I'll have a great new kit to give away with any $5 purchase, so you won't want to miss the opening! I'll post a preview and some sneak peeks of some new items in the coming weeks before the grand opening. And, I can't take all the credit for the store myself. Yes, it's my own personal store, yes it's all my stuff, but Grace Bennett has been wonderful in getting it set up for me. She's one smart gal when it comes to web design!
Gosh, what else do I have to say? I really want to get back to blogging and man, have missed it so much! Oh yes, new product announcement & then on to some kid stuff. I've got a paper pack plus extras up at SBB right now, just in time for Valentine's Day: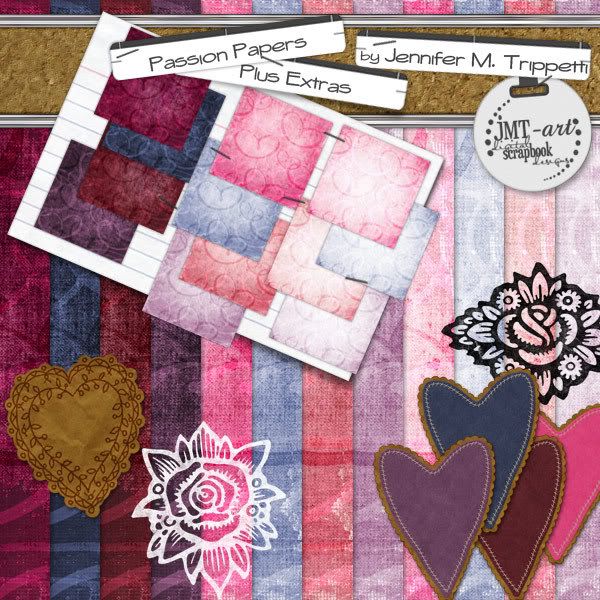 This paper pack consists of 3 different papers in 4 colors. The 3 different papers are all different hues – there's a set of deeply colored papers in pink, blue, red and purple, a set of medium, softly colored papers in pink, blue, red and purple and a set of slightly colored papers (mostly white) in pink, blue, red and purple. In addition, I've included 4 suede hearts, a doodled paper bag heart and 2 rose floral stamps which include black and white PNGs plus an .abr brush set created in PSCS2. Purchase this set at SBB for $3.00.
Here's a close up so you can see things a little better: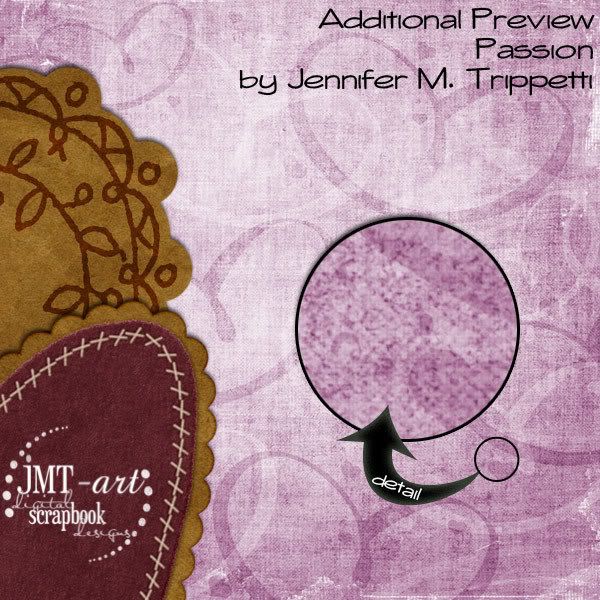 Sorry for the squishy previews – I didn't have smaller ones available & had to squish these down here. Click on either of them to see them better at my SBB store.
Kid news: Just a funny from my son, Ty, who's 5 and in Kindergarten. I was asking him to bring me his backpack so I could check it for papers and stuff and he gets a weird look on his face as he brings it to me. I open it up & there's a paper in there – a drawing by someone else. At the top, written in Kindergarten writing is "Angelina." Knowing that the kids get embarrassed at the mention of anyone of the opposite sex, I just kind of blew it off and said, "Oh, what a nice drawing, does that say, 'Angelina'? Did Angelina draw this?" He gets all shy and says, "Yes." I then come to find out that Angelina isn't even in his class, she's in the other class, but rides the bus home with him. So it seems there's s little thing going on there, by the way he was acting. LOL! My son, the ladies man at age 5. He's so cute and I think he knows it! LOL!
Well, I'm off for now. We are getting a new TV today & it's due to be delivered this afternoon so I'd better make sure the floor is clear of toys or else the delivery man won't be able to get it in the house. And since I just spilled coffee on my shirt, I'd better go change & then do some laundry. Have a happy day!
The End...For Now | File Under Jenn Runs, announcements, new products | Leave a Comment |
---
January 23, 2008, 6:38 pm
Sorry for the sudden disappearance of both me & my blog. I was switching hosts, something that seemed like a good idea at the time and then *poof* my blog is gone and it can't come back. I've lost all my previous posts and now have to start fresh. Actually, the host switching was a necessary evil and I'm better off now (I think). Just have a lot to learn about a new host. But at least my blog address is still here & now I've got a clean slate to fill up. So let's get started with the promotion I'm currently running. There's a few more days to get this mini kit for free with a $5 purchase from my store at SBB:

TO RECEIVE FREE MINI KIT: Make a purchase of at least $5.00 from my store at SBB during the time periods listed and you will be emailed a link to download the free mini it. Emails will go out at least by the week after the promotion ends. Make sure you have a valid email address on file with the SBB store because that's where I'll email your mini kit links!
And, I've got all my Basically Beautiful stuff on sale for 25% off. You can grab the entire set for just $5.62 and then get the Bellissimo mini kit for free!

Well, I've got a lot of learning to do for my new site host & have got to work on getting my pages back up and running!
The End...For Now | File Under announcements | Leave a Comment |
---