March 5, 2010, 2:47 pm
I was searching online for information about whether you could search your Facebook statuses (still haven't found out if you can) and came across a really interesting blog post by Rob Banagale called 5 Creative Ways to Hack Your Facebook Profile Photo. Now, I wouldn't really call these "hacking" because you're not doing anything wrong and to me, hacking implies malice. He's got some cool tips on that blog post and I decided to play around with a photo and came up with this:
You can click the image to see it a little bigger. Or, if you are on my friends list on Facebook, check it out for yourself on my profile.
Now, I'm not normally a whimsy/fantasy type of scrapper,  but I like how my profile pic turned out! When I read Rob's blogpost, I had that photo in mind. It's one from 2006 of Lauren on a swing and I thought it'd be perfect for this "hack." The chain link on the swing didn't extract very well so I had to use a graphic for it and then decided to add the cute critters all around. (Those critters are actually a NEW PRODUCT of mine. Yes, I said new product! I have not created something brand new for sale in a long time. They're not available just yet, but keep an eye on my iScrapbook store and they'll be there within a week.) Here is a preview of them: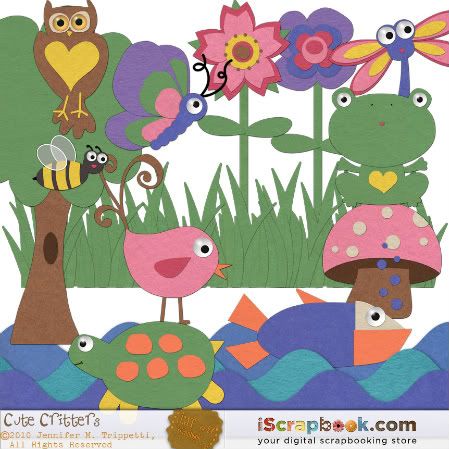 There are 16 items all made out of construction paper. How cute are they? Just to see if there is anyone reading my blog, if you want them for free, give me a little comment and they're yours. Limited time offer!
The End...For Now | File Under LO, jackpot, new products | 5 Comments |
---
February 25, 2010, 6:24 pm
I went skiing with the kids for the first time this winter last weekend. I'm not much of a skier, but my brother is and he took Allison 2 years ago and I thought it was time for Ty to give it a try. Me and Ty rented skis for the weekend and Allison got them for free (more about that later), so I had to get as much use out of them as possible, because, man, skiing is expensive!
So on Saturday, Ty & I got out early and hit Spring Mountain, which is only about 20 minutes from us. Ty has never been on skis and, well, let's face it, he's not all that coordinated (he still has trouble skipping), so I thought by taking him alone on small hills on Saturday that he'd be more prepared for Sunday when we all went. Spring Mountain is really small – the highest peak is only about 500 feet and there are only a few trails. They have this area called the Mole Hill which makes most Bunny Hills look huge. You can pay to just use the Mole Hill and it's half the cost of a regular lift ticket. So I decided to just do that with him. The Mole Hill has this Magic Carpet lift which is really very cool.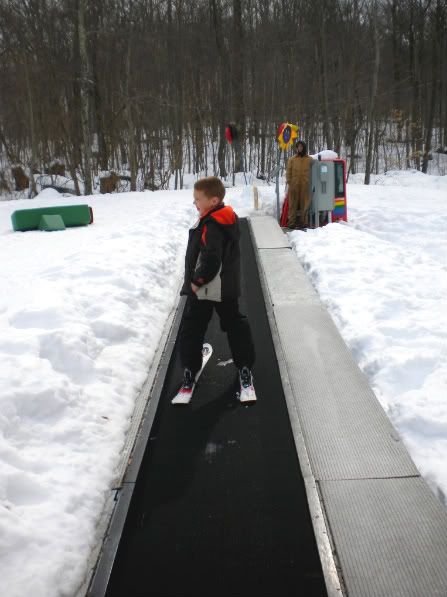 That was the nicest part of the hill. It was very convenient and Ty got the hang of it really fast. I was really impressed with how well Ty did on the small hill and thought he'd be great for Sunday because he seemed to be catching on really quickly. Here he is going down the hill, leaning forward, hands on knees and trying the "pizza" wedge.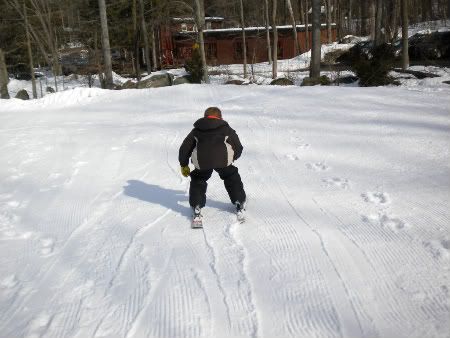 Do you see how unbelievably small that hill is? The nice thing, though, was that we got there first & had the hill to ourselves for about an hour. It was freshly raked, so conditions were perfect. It was also pretty warm – mid-30s.
After about an hour or two we took a break while a class got started and we had some lunch. Then we hit the slope again and Ty was doing really well. Most of the time he was knocking down this sun guy (purposely), but sometimes he'd ski right through it. (It's hard to tell, but this is an action shot. It's while he was skiing through the tower.)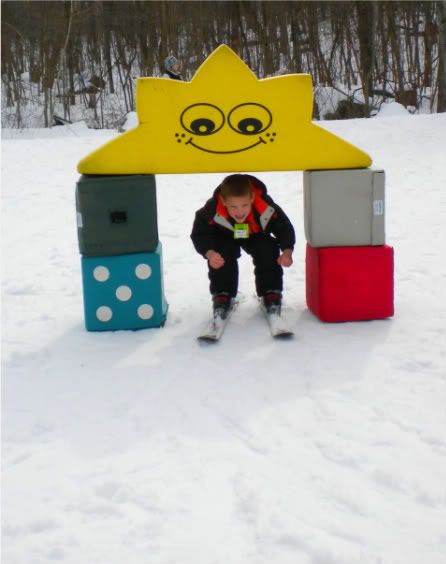 I just realized that all of these pictures show Ty without a helmet. I swear he was wearing one for most of the day! There were a few times I let him take it off because he was so warm and the hill was so small, but I was adamant that we get a helmet and he wear it. (Did I mention that he's not very coordinated?)
On Sunday we headed out early (up at 6 and out by 6:30!) to Blue Mountain. They've got so many more hills and claim to have the highest vertical in PA at 1082 feet. Allison is a 5th grader and PA has this great deal where you pay $15 for processing and get free skiing all year. She gets one combo package (skis, lesson & lift ticket) and then 3 tickets to all 23 participating resorts, with the purchase of one adult ticket. It's a great deal and offered by SkiPA.com. I wish I would have signed her up for this last year (it's for 4th and 5th graders) or earlier this year, because we'd have used it more!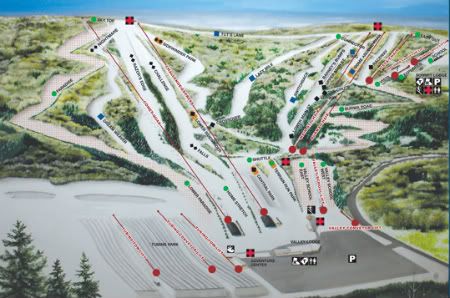 We started out the day with the kids in a beginner lesson. Allison's been skiing before, but it had been 2 years & I felt she needed a first time lesson. So while they were in the lesson, Chuck took me down one of the green (easiest) hills. We skied all the way down and I was very cautious. It's been a long time since I've been on skis! But, I got the hang of it and had some fun. Back up the lift and we checked on the kids. Ty was crying and complaining and I knew it was all downhill (pun intended) from there.
After the lesson, which Tyler refused to learn anything at, Chuck took Allison on the slopes by himself so they could get some good skiing in. Meanwhile, I stayed with Ty on the beginner bunny hill. They did have a tow rope, which was nice and Ty did well on that.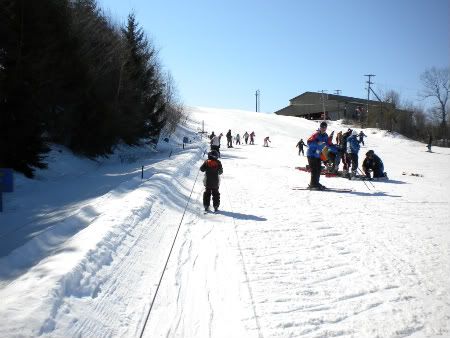 I think my Spring Mountain trip with him backfired, though, because he insisted that he knew everything he needed to know about skiing (typical man, right?) and refused to listen to me. So, while Spring Mountain was easy for him, even the bunny hill was a challenge for him. It was much more crowded and steeper. He seemed to forget how to wedge completely and toppled over at the bottom each and every time. Then he'd complain that his ankle got twisted or he hit his head or his hands were cold. He was so full of drama that I couldn't take it. We took a long break for lunch, met up with Chuck & Ally and even had a visit with the giant Peep. (Just Born, the company that makes Peeps (and Mike N Ikes) is a local company and they were having a fundraiser for Habitat for Humanity. Who am I to refuse to help Habitat, even if it meant I had to buy some Mike N Ikes?
After lunch, it was back on the slopes. Chuck & Ally took off again on their own and me & Ty decided to hit the lower end bunny hill.The lower hills have a lift and everything, so I thought Ty would like that. He was looking forward to riding a real lift and doing a bigger hill.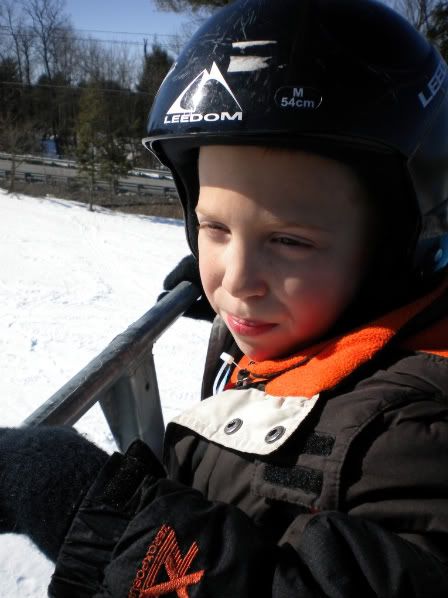 At this point, I'm all outta pictures. I was wiped out after doing the lift with Ty. He really tested my patience on these hills. They were way too steep for him and he was way too tired. I had him hanging onto my poles as I winded us down the mountain…more than once. If I let him go as he wanted me to, he'd go way too fast and crash. One time he even knocked me down (the only time I fell, thank you very much). So after 2 trips on the lift and down the mountain, we did the smaller Magic Carpet bunny hill they have and then called it a day. Chuck & Ally ended up staying even later and had a really good day. (With the exception of her almost falling OFF of a ski lift. Oi vey. She got on and slipped right off about 5 feet off the ground. Luckily Chuck & the guy next to her grabbed her before she slipped completely off.
Needless to say, since I wasn't with Allison most of the day, I don't have any photos of her. But, Blue had a photographer onsite snapping pictures that we could buy. I'm still debating if I want to purchase any, but here are a few small thumbs of the photos:
And my favorite action shot:
Yeah, so the quality on those is bad, but they are screen shots from the website. I just can't fathom putting out $20 a shot for the ski photos. I might get one that shows the 2 of them to frame, but after our Disney trip where we paid $150 for a CD of photos and Allison's most recent gymnastics meet where I paid $100 for photos, I can't afford much more.
One final shot from me to prove I was actually out there on the slopes: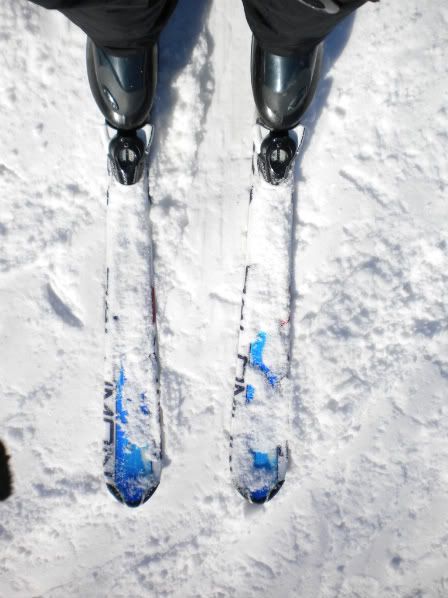 That's about all I got of me on the slopes.
The End...For Now | File Under random babbling | Leave a Comment |
---
February 17, 2010, 12:49 pm
Ty and I did the Valley Forge Pilgrimage this weekend with the Boy Scouts & Cub Scouts and boy was it cold & snowy! They told us it was the snowiest one they've ever remembered. Ty and I made it through 2 stations only, but at least did some! I was fine – my boots were FABULOUS, but Ty's hands got pretty cold. Doing what any 7 year old would do, he couldn't keep his hands off the snow. So even though I had a few layers of gloves, once the bottom layer got a little wet, it was all downhill from there.
The first station we saw had 3 Oneida Indians talking about their culture. I'm not sure if you can tell from this picture, but this guy has his hair cut in the traditional Oneida way. It was shaved except for a ponytail in the back. And he didn't even have a hat on! The Oneida's talked about the Iroquois involvement with the Revolutionary War and how they played LaCrosse, of all things! It was really very interesting.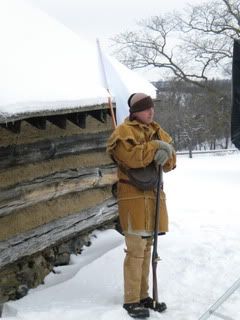 After the first station (which we walked to), we took a bus to the next station where we had some hot cocoa first. Ty was happy to warm up a bit, but it didn't last too long.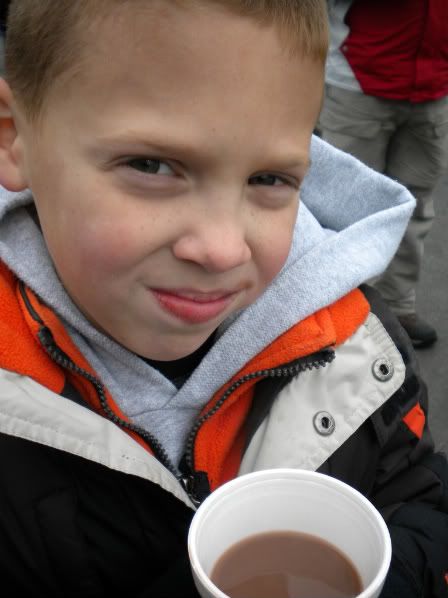 The 2nd station that we went to was about how the soldiers loaded cannons. I didn't get any pictures from there, as Ty just wanted to go home. We got a ride back to our car and decided to try some sledding. Valley Forge National Park is known for it's great sledding hills. Ty warmed up in the car and we did just 2 runs down a big hill. He had to climb back up the hill both times in snow that was waist deep on him!
I snapped a few more pictures of the park before we left. We really had a good time and I hope next year we can learn a little more about the Revolutionary War at the next Pilgrimage.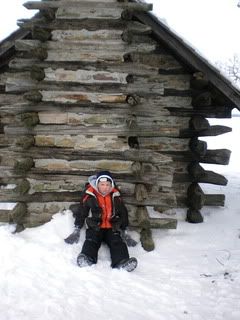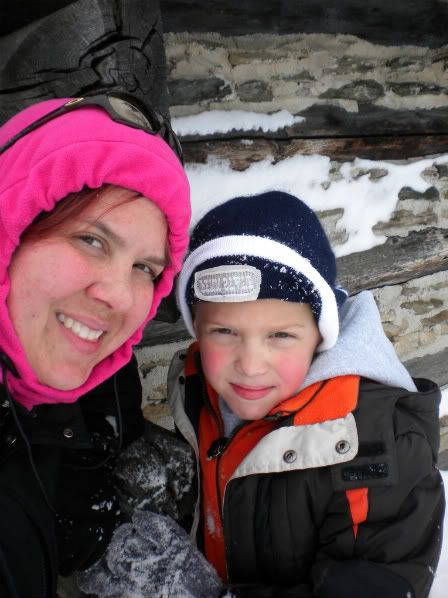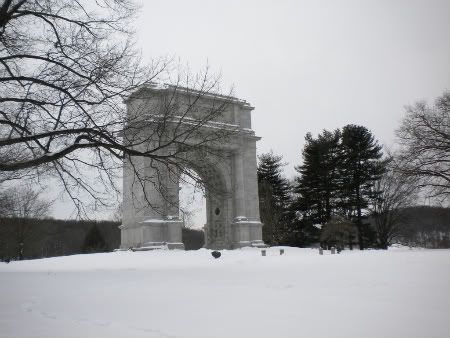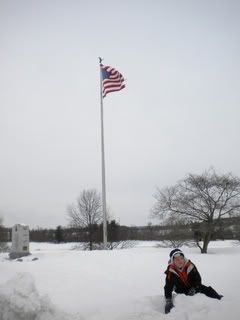 The End...For Now | File Under random babbling | Leave a Comment |
---
February 12, 2010, 2:14 pm
I love shoes. All kinds. I'm not much of a high heel type person. OK, not at all, really, so it's not like I go for $200 or expensive pumps or things that are totally impractical. I love a good rugged shoe. Like these: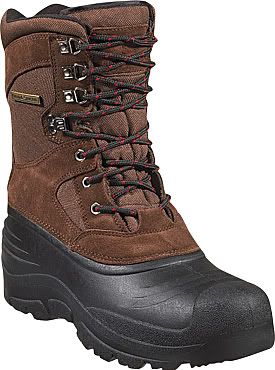 The Field & Stream Men's Buck Hunter 1000 in size 8. Yes, they are a men's shoe. But they are what fits me best. I was in need of a good winter boot. I have a cheap pair I got at Target. They are women's and just too tight in the toe. I have pretty wide feet and big ones, too. I wear a size 9-9.5, sometimes even a 10 (thanks to fallen arches from pregnancy). I can't wear most women's shoes like pumps or even sandals because my feet are just too wide. My favorite shoes are my Born Post clogs

and I wear them almost every day. (I just realized that Zappos doesn't have them anymore. Oh no! What will I do when I need to replace them? I've had them for a while now & wear them a lot – they're very hardy, but I know they won't last forever!)
So anyway – back to my boots. I needed a good pair for one because we have had about 30 inches of snow in the past week and more is due next week. But more importantly, because I'm going on a Pilgrimage in Valley Forge National Park with my son, Tyler for scouts tomorrow. The pilgrimage is held annually and it has been going on since 1912. It's the longest running continuous scouting event and I'm pretty excited to be going. It's going to be COLD and wet and snowy, but I'm up for it. I just hope Tyler can hang long enough to enjoy it! The scouts get to learn about the Revolutionary War and even get to shoulder a rifle…which is going to be difficult for me. I'm so not into guns and war and stuff, but since this is history, I think I can allow it.
And then to top off our winter fun, next weekend I'm taking the kids skiing with my brother. I'm not much of a skier, but I have skied a few times before. My brother Chuck skis a lot, Allison has gone once & Tyler never. So it'll be interesting. I'm not taking Lauren, though. It'll be hard enough with me & the older 2. But it'll be fun and if it goes well, maybe we'll get another day or two of skiing in before the end of the winter.
Wish us luck tomorrow on our Pilgrimage. I know my new boots will keep me warm!
The End...For Now | File Under random babbling | Leave a Comment |
---
February 10, 2010, 11:24 am
I wonder how many people are posting about snow days today. Here is PA we are having our 3rd snowstorm of the winter. If we get at least 10 inches in Philadelphia today, we'll break records and have the snowiest winter of recorded history. I think it's going to happen. It started snowing about 6 or 7pm last night and we got maybe 4 inches overnight and now it's snowing again. It's supposed to continue all day and DH says we're in for another 8-10 inches MORE on top of the 4 we already got. Luckily the 13 inches we got this weekend have melted a little bit, but still, we're in for a lot of snow. So the kids are off today and maybe even tomorrow if it continues snowing through the night.
I love the snow. I'm not crazy about driving in the snow and when DH & I were working outside the home, it was stressful having to get the cars shoveled out and driving to work. But now that he's working from home & I only have a part time job with very little commitment, it's actually nice to watch the snow fall.
On Saturday was our first significant snowfall of 2010 and we spent time shoveling, snow blowing (thanks to our neighbor's borrowed snow blower) and baking. Instead of just baking cookies, we made some dog treats for Sabrina.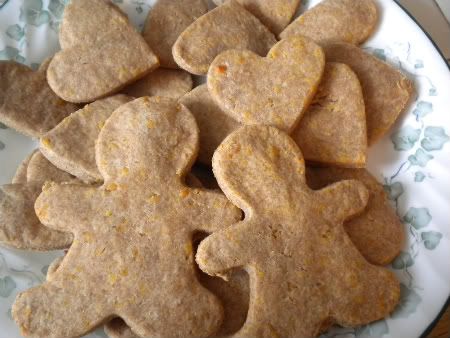 Allison found this recipe and for the life of me, I can't locate it right now, but it's basically just whole wheat flour, milk and cheddar cheese. Sabrina seems to like them because she runs off into the corner to eat them like she's getting some kind of human treat she's not supposed to have.
Here she is in the snow, before we made the treats. She's loving the snow, too.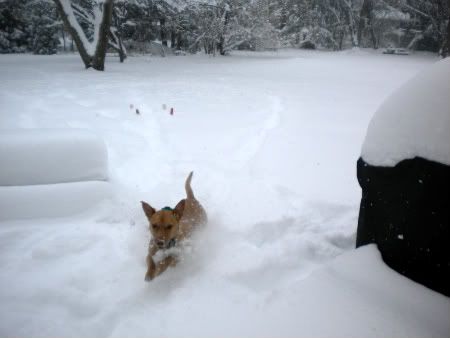 And of course the obligatory bundled up chilly kids: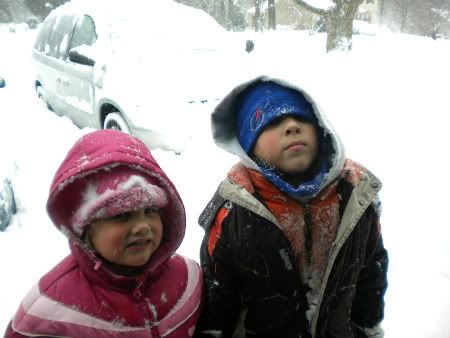 And Allison enjoying some hot cocoa after being out in the snow: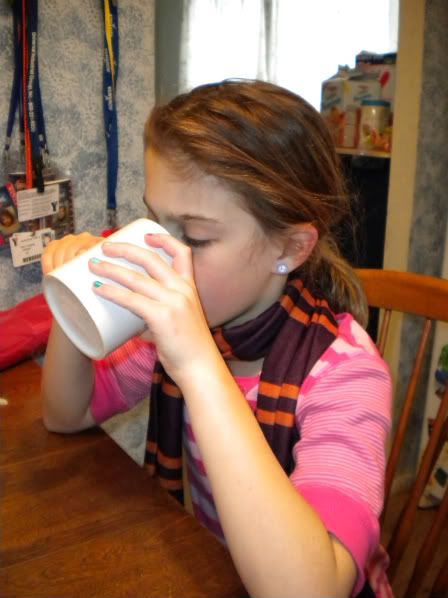 Finally, here is my artsy picture for the day. We live across the street from a small, private cemetery and I love taking pictures of it.
I used a photo mask by Holly McCaig for the border and tweaked the photo a bit using an action by Meredith Fenwick. I love the way the flag is just blowing in the wind with the rest of the cemetery so peaceful.
I'll leave you with one final photo of Sabrina I took today. At the last minute, she blinked, LOL! Actually, I think she was annoyed that I was making her stay outside & look up at me in the snow.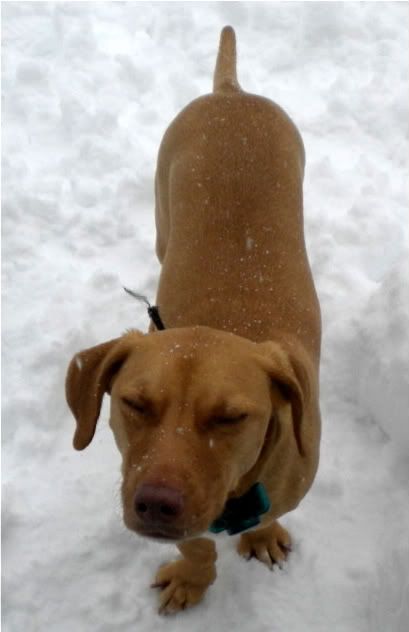 The End...For Now | File Under random babbling | Leave a Comment |
---
February 7, 2010, 10:46 am

The R-word is one of those words I cannot stand. I don't know why, but I can honestly say that in my adult life, I have never used it. I can't stand to hear it from people, to read it on message boards or hear any jokes about it. I have no personal reason why the word bothers me. I don't think I even know any mentally challenged people. But hearing people use that word drives me insane. You an help to change the conversation. Read on to help eliminate the use of the R-word in everyday speech.
From the R-word website: Actor John C. McGinley of "Scrubs" shares a message about why you should pledge to stop using the word "retard(ed)" and begin helping Special Olympics and Best Buddies International create a world of respect for people with intellectual and developmental disabilities. Join us on 3.3.10 to make your pledge to end the R-word.
The End...For Now | File Under announcements | Leave a Comment |
---
February 5, 2010, 9:20 am
When we went to Disney a friend suggested that we make the kids make a list of what the see that they want to buy and tell them we'd spend a day shopping for what they wanted. This would make them wait to buy and hopefully limit the items bought. Um, yeah, that didn't work. So here are some of the things we came home with from our trip to Disney:
1. Ty's Dinosaur. This was purchased at Animal Kingdom, probably within 30 minutes of stepping foot in the first park. I, however, was not there for the purchase. Because I would have discouraged it. Lauren was sick and I was taking her to a clinic while John took the kids on Dinosaur as the first ride. At the end, Tyler purchased this monster.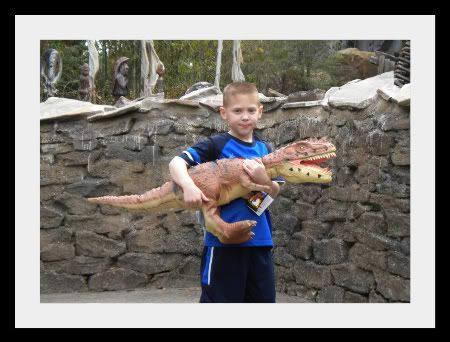 2. Yetis. All the kids bought a Yeti after Expedition Everest. Again, on the first day we were there. Allison bought a somewhat useful purse, which she used every day to hold her camera, phone and money. But Ty & Lauren each bought this big, fat, round Yeti, which, as you can see, Sabrina enjoys also. They're really very cute, but I'm not sure each one of them needed one.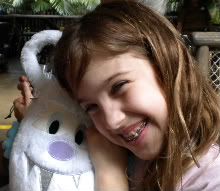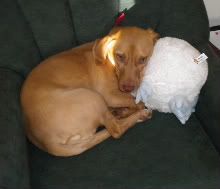 3. Ty got a create your own Mr. Potato Head. I was reluctant at first, but it's really cool! When he first started filling up the box, I thought, "$20 for a Mr. Potato Head as Darth Vader, Wow!" but as it turns out, he got a bunch of other stuff, too. The Cast Member there helped us pack the box so we fit Darth Vader, a Storm Trooper, some Mickey accessories and then the basics, too.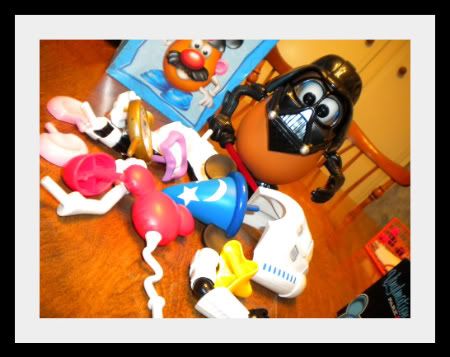 See that little light saber? What a bugger. Tyler broke it as soon as we got back to the room the day we bought it. He was so upset and obsessive about it. So finally, on Friday, when we returned to Magic Kingdom, I asked if I could exchange it, along with exchanging one of the Storm Trooper's arms because he picked up 2 of the same arm. I was amazed at how accommodating they are at Disney.
4. And finally something for me. I was torn between starting a pin collection and starting a Vinylmation collection. I opted for Vinylmation. I couldn't resist. Vinylmation are  3 inch figurines, Mickey shaped, and designed by different artists. You don't know what you're getting until you purchase it and open it up. They're kind of like a grown up version of Mighty Beanz or Go-Gos Crazy Bones, if you know what they are. Only they cost $10 a piece. Here are the three I got: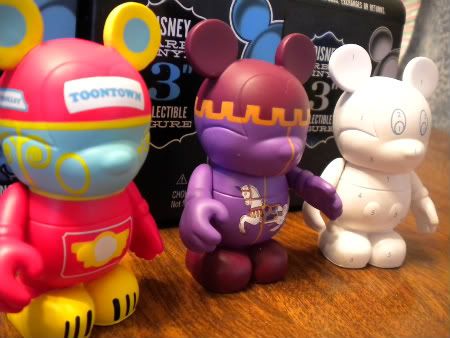 The first one I got was the paint-by-numbers and I wasn't too impressed. The second one was the Carousel, which I like. And then the Toontown was the best one of the three. I can't wait to get some more and have a whole collection! What's neat about them is they come in a set of 12, I think? And then there is a mystery "chaser" that no one knows what it looks like. You can get images of the entire set, except for the chasers. I think it'd be cool to open up a package & find one you've never even seen a picture of before (although I bet if you google it, you'll find them, huh?)
So all these souvenirs and this doesn't even count the hats that were bought. Ty got his Pluto hat, Allison got a Minnie Mouse headband ears and a Goofy Pirate hat and Lauren got a Pink Madras Plaid ear hat and a Pirate Princess ear hat. I'm working on a scrapbook page of just the ear hats, so maybe my next one will be of the souvenirs, too.
The End...For Now | File Under random babbling | 1 Comment |
---
February 4, 2010, 1:02 pm

Back in October I started a diet program called Take Shape for Life by Medifast. The weight started dropping off quickly but by Christmas (actually around Thanksgiving), I hit a plateau. At least that's what my doctor calls it. I call it getting bored & cheating. The diet is a really good one. It's doctor supervised and it's a 1000 calorie a day diet. It's low carb – not no carb, just low carb, and based on the ideas of the Zone diet, as far as I can tell. But, as my doctor says, you need a PhD to understand the Zone Diet and Medifast makes it simpler. The basic premise is that you eat 5 Medifast "meals" a day and then one "lean and green" meal a day. By eating every 2-3 hours you aren't hungry (seriously, I'm not hungry) and the Medifast meals are high protein (soy) meal replacement bars, shakes and even pretzels, cheese puffs, oatmeal, soups and puddings. The food is really good. It satisfies my crunch craving and even my sweet tooth. Some of my favorite items are the S'mores Crunch Bar and the Chili Nacho Cheese Puffs. They are small, don't get me wrong (only 90-110 calories per "meal") but they are good. For lunch often I'll have a soup, chili or stew meal and add some celery to it.  For the lean & green meals you get a really healthy portion of a protein (between 5 & 7 ounces, depending on the protein) and then 3 cups of veggies throughout the day or all at once. No fruits, no sugars, no extra carbs except for what's in the meals. I do miss the breads, but if I stick to the plan religiously, I don't miss them as much. It's like the more I eat, even if it's just a bite, the more I crave.
I've lost 23 pounds officially and am really feeling better. I have to get back to exercising, though, because I know that will help, too. But, it'll also throw off my calorie balance and at only 1000 calories a day, I have to be very aware of that. I don't think I'm going to get back into running anytime soon, but I do want to start a serious walking program. My Mom is joining the Y tomorrow, so I'll have incentive to go more often because I want her to get healthier, too. If I am brave enough, after I've lost about 30 or 40 pounds, I'll post before and after pictures. I know I've lost inches, but so far have not bought new clothes. I'm just fitting better into old clothes & pulling older shirts out of the closet that got too tight last year. By this summer I want to feel good wearing shorts and tank tops and hopefully be down at least one size in pants. My ultimate goal is to be 150 pounds, but for now, my short term goal is 170. I've still got a ways to go.
Now for some Disney Layouts. These were created with QuickPages. Everything is by Libby Weifenbach, Do You Believe in Magic at Sweet Shoppe Designs. (QuickPage with additional elements from the kit added.) Font is KGD DeeDee Print. I did a little bit of journaling on the left side of the page – it was a sort of stream of consciousness journaling. I just plopped down bits & pieces of our memories, good and bad, about Animal Kingdom. I'm happy with the way it turned out and may do that for each park.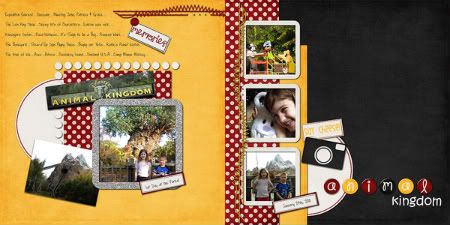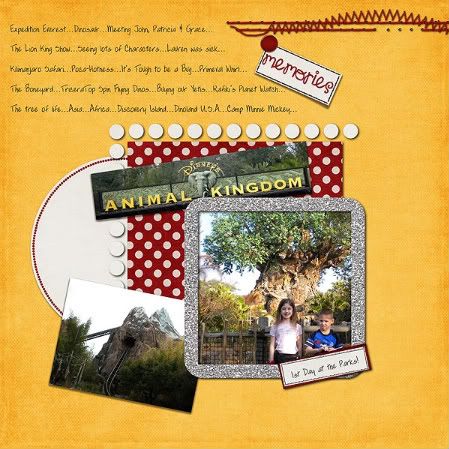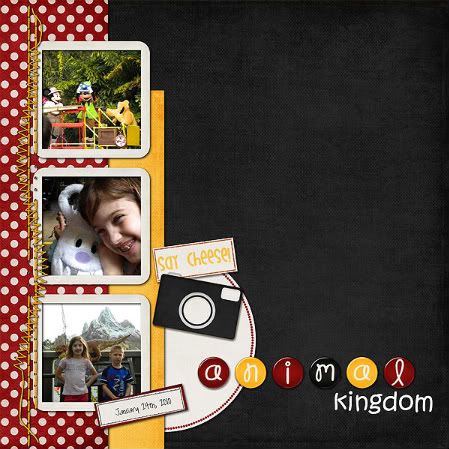 That's it for now. Until another time…
Adios!
The End...For Now | File Under LO, fitness, random babbling | Leave a Comment |
---
February 2, 2010, 7:53 pm
I have been having lots of fun scrapping my Disney layouts. But, how's this for luck. Of the 4 Disney kits I purchased a week and a half ago, 2 of them went on sale this week. Bah. Just my luck. Anyway, they're great kits and worth the full price I paid for them.
So this DPS features Mickey & Minnie mouse. We didn't see much of them on this trip. The kids did get to get both of their autographs as Animal Kingdom, but we didn't get to see them anywhere else for photos or autographs. We did see them in parades & shows, but not sitting for photos, which I thought was a bummer. I'm a tradionalist, LOL, and I'd have rather had a shot of Mickey in his "normal" attire instead of his Animal Kingdom outfit. I was by myself when I saw Minnie in her red polka-dotted dress, so no one else got in on that action.
Here is the whole DPS.  Most everything is by Melissa Bennett, Mouse Magic from Sweet Shoppe Designs. DisneyWorld word art and bracket shape by Britt-ish Designs, Remember the Magic word art by Miss Kim. Fonts used are Sharpie, Foo and KGD DeeDee Print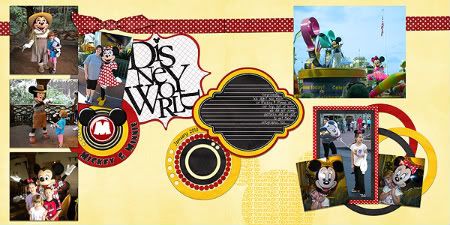 And individually: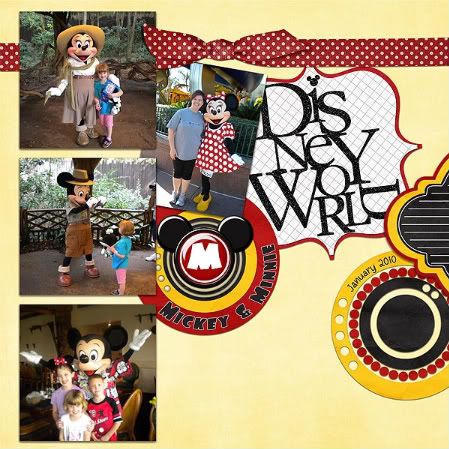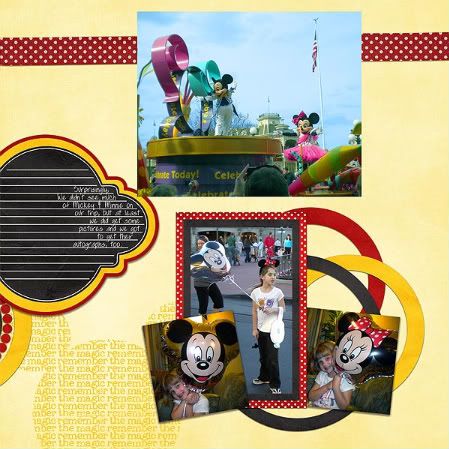 And then there is a single I did, using some of the photos I scrapped in the Pluto DPS before. I just love these photos & wanted a single, artsy LO for them. Most everything by Britt-ish Designs, Leave the World Behind from Scrap Matters with some extras from Do You Believe in Magic by Libby Weifenbach from Sweet Shoppe Design (journal strip, ribbon, star flair). The Font is something by KGD, but I forget which one.
I'm on a roll with these LOs. I really want to get a book done with the photos and still have 100+ photos coming on the Disney PhotoPass CD that should be delivered next week. Hopefully with those photos I can do some single photo LOs instead of these multi ones. Although I like doing multi-photo spreads – it's nice for a photo book, I think my favorite layouts are more artsy ones that just have a single picture.
Tomorrow I'll post the 2 QP layouts that I made. Even using QPs, though, I'm still a slow scrapper. A single DPS is about all I can do in a day. I like to play around so much with the elements that it takes me forever to get them all on a layout. I just hope I don't go into scrap burn out from scrapping a DPS each day!
The End...For Now | File Under LO, random babbling | Leave a Comment |
---
February 1, 2010, 9:13 am
…almost a year, actually. But I've been visiting my blog now & then and thinking of coming back to blog again, so here I am. I just returned from a family vacation to Walt Disney World and have some layouts to post. It was our first trip to Disney as a family and my parents went with us, too. John and I haven't been there since our honeymoon 13 years ago, so a lot had changed! The kids had fun, as did I. John did too, I guess, but he was sick for most of the trip. All of us, except for Allison had a touch of sickness at one time during the trip. But, we tried to push on, ignoring the sickness when we could, so that we could enjoy Disney. All in all, we had fun.

I think unanimously, we all thought that Soarin' at EPCOT was one of the best rides there. It was one of the only rides that all 7 of us went on together, we got to sit together and we all enjoyed it. Soarin' simulates a hang-glide ride over different places and it's augmented with scents like a crisp forest or sweet orange grove as you fly over them. It was so cool and normally I don't like simulated rides like that, but it was slow and easy enough that it didn't bother me.
We enjoyed seeing all the characters, too and Disney's PhotoPass is one of the best inventions ever! They have trained photographers throughout the park and with most of the characters to take your picture. They give you a card that you enter into the website to view your photos and can purchase from the website. I purchased the entire CD of over 100 photos. It's expensive – $150, but worth it considering each photograph costs about $15. You get copyright release so you can reprint them as much as you want. So I can use them for scrapping pages, printing photo books or just printing prints.
I'm going to be spending the next few months, I'm sure, scrapping my photos with a goal of putting together a couple of photo books for myself and my parents. Here is the first layout set I've created. I used Sahlin Studio's Enjoy the Moment kit from Scrap Matters for this double page spread.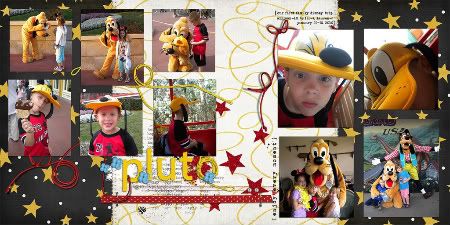 And here is each side individually so you can see it better: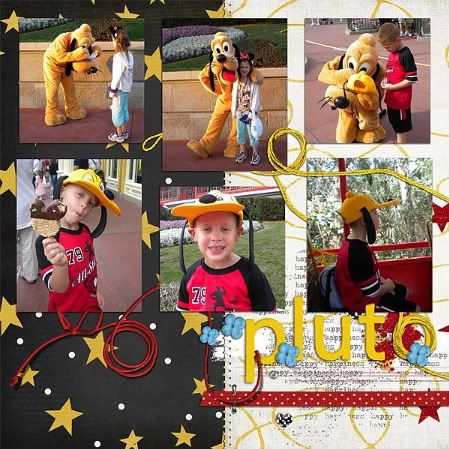 Each kid picked out some hats on the trip (as to be expected in Disney, right?) and while the girls each got some form of Mickey Ears, Ty wanted nothing to do with them. Instead, he picked out a Pluto hat, which is just adorable. I love Pluto & didn't realize how much until this trip. He's just so fun, isn't he? I've got lots more characters to scrap, but I think I have more photos of Pluto than anyone else.
I've got so much to get done today – laundry, cleaning, preparing for REC and Scouts and I still want to scrap some photos, so until next time…
Adios!
The End...For Now | File Under LO, random babbling | Leave a Comment |
---
keep looking »